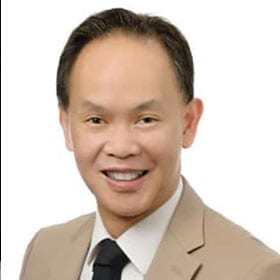 MBBS, FRANZCR, Radiation Oncologist
My goal is to provide the best possible outcome for patients, and to support them throughout their treatment journey.
Languages spoken
English, Mandarin
Clinical interests in all areas of radiation oncology including urological, lung, gastrointestinal (GI), sarcoma, and central nervous system (CNS) plus lymphoma and palliative care.
Prof. Leung has been in Adelaide since 1996, and working as a Director/Partner at Adelaide Radiotherapy Centre (now GenesisCare) since 1997. He is also a consultant radiation oncologist for Flinders Medical Centre .
Prof Leung is active both academically and with his clinical workload. He is the current Chief Examiner for Australia, New Zealand and Singapore. He is also the Deputy Chief Censor of the College. He was previously the Chief Accreditation Officer for the College. He has been an examiner for the College for many years and the lead  examiner in a number of series. He was the main workforce adviser for the Economic Workforce Committee and a Director of Training for many years. He is also an associate editor for the national journal and is a keen teacher for trainees approaching their phase 2 examinations.
Prof Leung has a particular interest in workforce issues and has published a number of peer review papers, including the only two workforce Census' this century, the only trainees survey, Directors of training study, and more recently stress, satisfaction and burnout articles on radiation oncologists and also trainees. He is the sole or principal author on these subjects. He has also published on clinical areas such as spinal cord compression, pancreatic, lung and prostate cancer .
He has a broad clinical interest in nearly all areas of radiation oncology, however he is especially active in urological, lung, and GI cancers, plus soft tissue sarcomas and palliative care.
Workforce, stress and burnout, examinations, prostate cancer, lung cancer and GIT cancer with publications in all these areas. Avid reader of journals. Current associate editor of national journal.
RANZCR
Committees- Examiners committee, national  journal committee and research mentor for trainees.
Past member of Education Board, lead examiner, Chief Accreditation Officer,  accreditation committee, key Workforce advisor and member of Economic and Workforce Committee.
Leung  J. United States and Australia and New Zealand radiation oncology trainee concerns, examination and training: a comparison and what we can learn from each other.   IJROBP 2020; 106 :914-5.
Leung J, Forstner D , Chee R et al. Faculty of Radiation Oncology 2018 Workforce Census. J Med Imaging and Radiat Oncol 2019 ; 63 : 852-61.
Wong H, Leung J et al. Comparative study between PSMA PET and conventional imaging in the initial staging of prostate cancer. J Med Imaging and Radiat Oncol 2018; 62: 816-22.
Abbas N, Ayoola A , Leung J et al.  Survival and late toxicities following concurrent chemo-radiotherapy for locally advanced stage 3 non small cell lung cancer: findings of a 10 year Australian single centre experience with long term follow up. J Thorac Dis 2019; 11:4241-8.
Leung J and Rioseco P. Burnout, stress and satisfaction among Australian and New Zealand radiation oncology trainees . Journal of Med Imaging and Radiat Oncol 2016; 61.