Make an enquiry about theranostics
Contact our theranostics team directly to find out how we can help you.
Theranostics can be used to treat cancers that have spread (metastasised), or where cancer is advanced and/or hasn't responded to other treatments.
While in the future theranostics may be used for different cancers, to date most experience and success has been in metastatic prostate cancer and neuroendocrine tumours.
Metastatic prostate cancer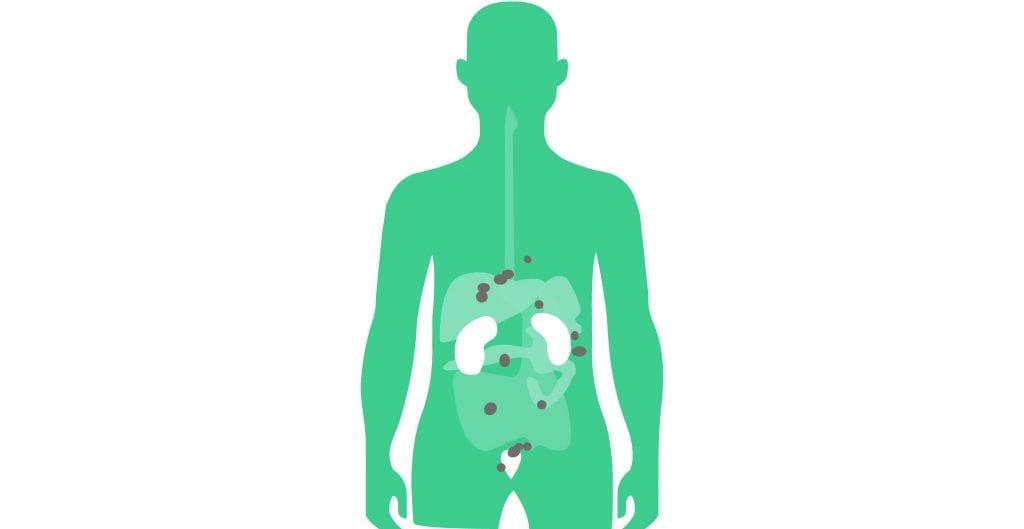 Theranostics is a personalised approach to treating cancer, using both diagnosis and therapy tools as part of the treatment. Theranostics uses PET scan imaging (a special type of scan) to see if specific targets, known as tumour receptors, are present on tumour cells.
If these targets are present and visible on the scan, a radioactive drug is used to treat the tumours. The drug is given as an injection and selectively targets the tumour cells while avoiding healthy areas. Most of the radioactive drug that doesn't reach the target is quickly passed out of the body.
Limited clinical trial evidence is available for the use of theranostics in prostate cancer and the treatment has not yet been reviewed by the Australian Medicines Regulator – The Therapeutic Goods Administration (TGA).
Access to treatment is authorised via the TGA Special Access Scheme, a scheme for compassionate access to medicines before registration. It is an out of pocket expense for patients as theranostics is not currently covered by Medicare or private health insurance.
Theranostics patient journey
It is important that you feel informed and supported on your Theranostics treatment journey. We are here to answer any questions or concerns you may have. Here are questions that others often ask:
Before treatment commences, your Nuclear Medicine Physician will explain the treatment process, treatment options and any potential side effects. You will receive a care plan tailored to your needs.
Any out of pocket costs associated with your treatment will be discussed with you in a clear and simple way before you commence treatment.
In order to develop your treatment plan, you will be required to attend a few appointments. These will include a visit to an imaging department and pathology centre for your blood tests.
Prior to receiving your cycle of treatment, your Nuclear medical Medicine Physician will review your results and confirm your treatment plan.
A nurse will assess your overall health status.
You will be given a tour of the department and an overview of what to expect.
A nuclear medicine technologist or nuclear medicine physician will deliver your treatment via an injection and monitor you regularly. A nurse will check that you are hydrated throughout the day by ensuring you have enough liquids or may put you on a drip if necessary. The treatment will last approximately 4 hours.
Where is theranostics offered?
| Title | Author/s | Journal & Date |
| --- | --- | --- |
| Combining External Beam Radiation and Radionuclide Therapies: Rationale, Radiobiology, Results and Roadblocks | Abbott EM et al. | Clinical Oncology, https://doi.org/10.1016/j.clon.2021.09.004 |
| Recurrent Prostate Cancer | Lenzo N, Sohi J.S, Lim T.S. | Appl Radiol 2021; Jul/Aug:40-43. |
| Patterns of disease detection using [18F]DCFPyL PET/CT imaging in patients with detectable PSA post prostatectomy being considered for salvage radiotherapy: a prospective trial | Koschel S, Taubman K, Sutherland T, Yap K, Chao M, Guerrieri M, Benson A, Starmans M, Byrne G, Ong G, Macleod C, Foo M, Wong LM, Gyomber D, Ng M. | April 2021 |
| Efficacy and Haematologic Toxicity of Palliative Radioligand Therapy of Metastatic Castrate-Resistant Prostate Cancer with Lutetium-177-Labeled Prostate-Specific Membrane Antigen in Heavily Pre-Treated Patients | Kesavan M, Meyrick D, Gallyamov M, Turner JH, Yeo S, Cardaci G, Lenzo NP. | March 2021 |
| Real-World Data Analysis of Efficacy and Survival After Lutetium-177 Labelled PSMA Ligand Therapy in Metastatic Castration-Resistant Prostate Cancer | Meyrick D, Gallyamov M, Sabarimurugan S, Falzone N, Lenzo N. | March 2021 |
| Gallium-68 prostate-specific membrane antigen positron emission tomography/computed tomography compared with diagnostic computed tomography in relapsed prostate cancer | Asokendaran ME, Meyrick DP, Skelly LA, Lenzo NP, Henderson A. | August 2019 |
| Renal outcomes of radioligand therapy: experience of 177lutetium-prostate-specific membrane antigen ligand therapy in metastatic castrate-resistant prostate cancer | Gallyamov M, Meyrick D, Barley J, Lenzo N. | August 2019 |
| 177Lu-PSMA radioligand therapy of predominant lymph node metastatic prostate cancer | by Eyben FE, Singh A, Zhang J, Nipsch K, Meyrick D, Lenzo N, Kairemo K, Joensuu T, Virgolini I, Soydal C, Kulkarni HR, Baum RP. | March 2019 |
Our theranostic specialists
Prof Nat Lenzo
MBBS (Hons) FRANZCR AFRACMA DMedSc
Radiation Oncologist