Medicare reimburses between 80 and 90% of the cost of treatment and we have payment plans to suit all incomes.
Your total cost of radiotherapy treatment is largely covered through Medicare via the Medicare Benefits Scheme and the Extended Medicare Safety Net programs and we can provide you with a guideline of what you are likely to pay out-of-pocket after your treatment plan has been confirmed.
Our aim is to make treatment affordable for all patients and we've recently introduced 'Easy Pay' to facilitate payment of your Medicare reimbursements in a more affordable manner.
For more information about Easy Pay please ask one of our administrative staff.
Understanding the cost for radiation treatment
Your first invoice is larger because it includes the costs for simulation and planning that ensures the delivery of high-quality personal treatment. Simulation involves a scan to measure your treatment site. Planning is the behind the-scenes work your doctor and radiation therapist do to design your personal treatment plan.
All you need to do is pay your invoice in full and Medicare reimburses you directly within 24-48 hours.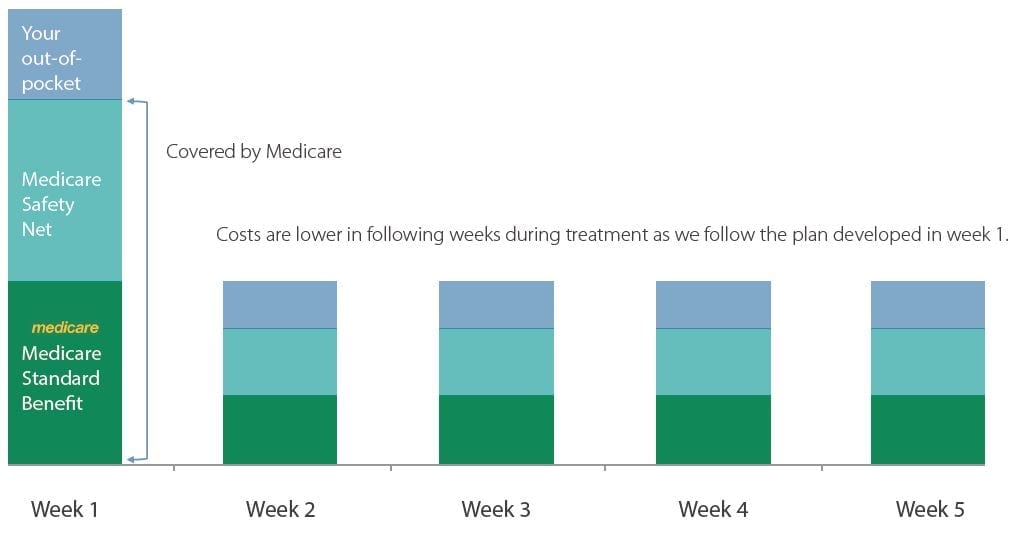 Our patient services team will discuss Medicare reimbursement, the costs and payment options for your treatment together with you at your next appointment.
Understanding radiation treatment billing
GenesisCare offers affordable, timely, personalised, high quality care.
Radiation treatment is typically an outpatient service, there is a cost associated with your care.
Most Private health funds do not cover outpatient services.
Medicare covers up to 90% of the cost of radiation treatment.
Our patient services team are here to help you understand the costs and payment options for your treatment.