Quality: a national target
Our National Quality Manager, Helen Fawns, specialises in governance, quality and risk management, and is focused on continuous quality improvement. Helen is a registered nurse and has a Master's Degree in Health Service Management, focused on Quality. Helen has wide experience as a health care professional, working as a district nurse, oncology nurse and palliative care nurse. Working in Quality for the last 20 years, Helen has a passion for improving services and working with patients and consumers.  
Helen's key role is developing and supporting Clinical quality and patient safety systems. These systems foster and develop an organisational culture in which quality and risk management for reduction of patient harm is an integral part of core business, enabling continuous quality improvement. A key element of this is partnership with Patients and Staff to meet and exceed the requirements of mandatory accreditation for GenesisCare Oncology against the Australian Commission for Safety and Quality, National Safety and Quality Health Service Standards. Helen believes that our patients should receive the highest quality of care.
"We have to work together"
- In the words of one of our patients during treatment
The GenesisCare vision and values have strong links to safety and quality. At GenesisCare we focus on quality, care and efficiency to deliver even better outcomes and extend access to patients and communities in need.
GenesisCare is committed to ongoing improvement of patient care in all areas. While we have an excellent record in delivering quality patient care and managing risks, we continue to focus on improvements that will keep it at the forefront of health care delivery. To this end, GenesisCare prides itself on listening and responding to the needs of our patients. We continually evaluate and improve on all aspects of our performance through customer satisfaction surveys, feedback forms, focus groups and formal feedback processes. GenesisCare has a strong commitment to patient safety and quality and this is reflected in our organisation-wide approach to:
Continuous review and improvement of our patient safety and quality systems
Educating our patient services and health care provider teams of the importance of monitoring and reporting the safety and quality of the services they provide
Ensuring accountability for the safety and quality of care at all levels of our organisation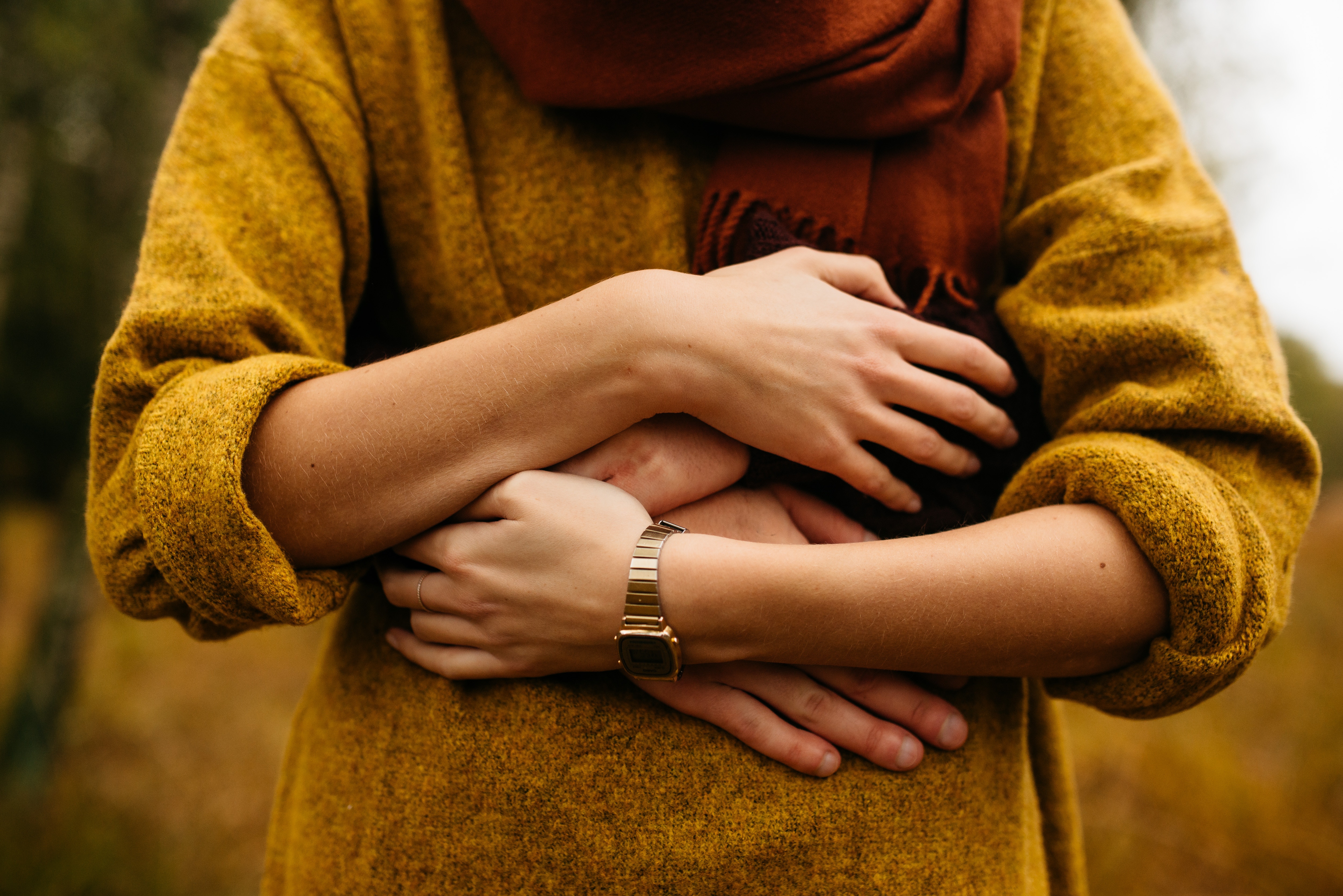 Know your rights as a patient
We aim to look after you and keep you safe during your treatment. We discuss care plans with our patients to assist with treatment.
The National Safety and Quality Health Service (NSQHS) Standards were developed by the Australian Commission on Safety and Quality in Health Care (ACSQHC) in consultation and collaboration with State and National jurisdictions, technical experts and a wide range of stakeholders, including health professionals and patients.
The Standards provide a quality assurance mechanism that tests and provide sound evidence as to whether relevant systems are in place to ensure standards of safety and quality are met, as well as providing a framework that allows health services to realise aspirational or developmental goals.
National GenesisCare Oncology Results
We are extremely proud to share our quarterly safety and quality results. Health quality and safety data is measured as the number of incidents per 1000 occasions of service. An occasion of service refers to any treatment or other service provided to out-patients in a health service facility. The incident rate for GenesisCare is less than 1 per 1000 occasions of service, demonstrating our commitment to risk management across our business
Despite our very best efforts, there is always room for improvement as we strive to keep all incidents to zero.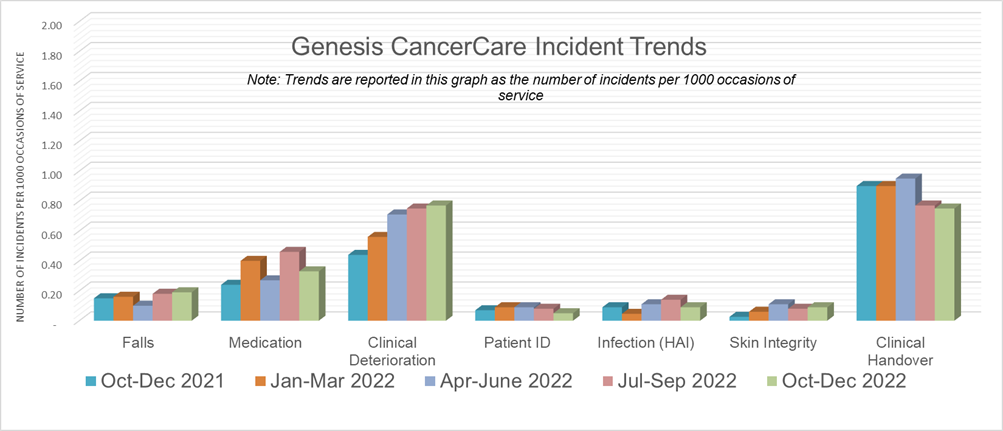 The focus of this Standard is on prevention. GenesisCare has processes in place across the nation to keep our patients falls at zero. In the last quarter, the number of falls (requiring intervention) was 20. This figure represents a rate of 0.19 falls per 1000 occasions of service. The rate is very low, and most falls occur outside our facilities in the car parks. We continue to ensure we have education, reporting and action plans in place to prevent falls.
GenesisCare takes all medication errors very seriously. We encourage staff to report all medication incidents no matter how minor they may seem. All medication incidents occurring are related to documentation of medications or storage processes. These incidents are investigated and actioned and provide us with an opportunity to improve our management of medications. Any serious medication incidents are investigated thoroughly and monitored by the National Safety and Quality Team. We had 38 patient medication related incidents in the last quarter, 17 of which relate to adverse reactions to medication in the medical oncology setting. All adverse reactions were appropriately handled by staff, minimising the impact on the patient.
Recognising that a patient's condition is deteriorating and responding to their needs in an appropriate and timely way is essential to keep our patients safe. We have systems to help us recognise when a patient becomes unwell to make sure we respond quickly to prevent further harm to our patients. In the last quarter, the number of clinical deterioration incidents was 90. All our patient incidents are reviewed to ensure we have followed the correct procedure. We also record any incidents where we have transferred a patient to a hospital so that we also review their care.
Staff will repeatedly ask you to identify yourself through the stages of your care to reduce risks to patient safety. This is one of healthcare's biggest risk areas with ongoing audit and review of processes and procedures. We have processes in place to reduce risks which might occur when there's a failure to correctly identify patients and match that information to an intended clinical intervention (procedures, medications etc.). In the last quarter, the number of patient identification and procedure matching incidents was 6 (which includes near misses). Our safeguards prevented harm from occurring on all 6 occasions. This represents an incident rate of 0.05 per 1000 occasions of service.
Having cancer or treatment for cancer can weaken the immune system. As a patient you may be more susceptible to infections. At GenesisCare we aim to minimise the risk of infection to patients, staff and visitors who come to our facilities. One of the most effective means to prevent infection spreading is for all health professionals and anyone entering our premises to engage in good hand hygiene practice. Hand hygiene is monitored in all our sites and we're monitoring our compliance against the national average of 85%.
Pressure injuries are areas of damage to the skin caused by unrelieved pressure or friction. These risks exist for our patients however the risk is very low, and we have specific processes in place to protect your skin. In the last quarter, GenesisCare had 0 pressure injuries and 2 skin integrity incidents (not involving pressure). The main area of risk is in relation to maintaining healthy skin during treatment and it is important that we record these incidents to protect patients from getting an infection.
It's important for patients to be involved and informed during the clinical handover process. Clinical handover is the transfer of responsibility and accountability for some or all aspects of your care from one healthcare professional to another on a temporary or permanent basis. We encourage patients to take responsibility by asking questions and staying up to date about your condition, treatment, and medical records. Staff will update patients and include them in clinical handover on a regular basis. Patients will be given the opportunity to add any additional information.
In the last quarter, the number of clinical handover incidents was 87, representing a clinical handover rate of 0.75 per 1000 occasions of service. It is important to communicate clinical information effectively and accurately. This includes communication from referring hospitals, between doctors and staff and between GenesisCare staff in all areas. Most of the incidents have little or no impact on patient care. Clinical handover training and education continues for our teams.