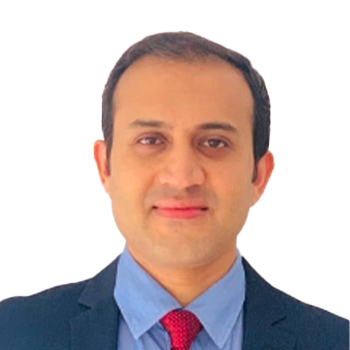 MBBS, FRACP, Medical Oncologist
Languages spoken
English, Urdu
Clinical interest in Oncology.
Yasir undertook specialist oncology training in Western Australia at Sir Charles Gairdner Hospital and Fiona Stanley Hospital. In 2020 Yasir completed a one-year clinical research fellowship in melanoma and kidney cancers at the Royal Marsden Hospital in London which is considered a centre of excellence in cancer care. During his fellowship he was the lead clinical research fellow in novel cell therapy clinical trials and collaborated with leading oncologists and researchers on multiple research projects.
Yasir has held a position as Head of the Oncology department at Peel Health Campus since September 2021 and also works at SJOG Midland Hospital. He is an Adjunct Clinical Senior Lecturer at Curtin University.
Yasir is committed to providing a holistic, evidence-based approach ensuring patients have access to the latest treatment options close to home.
Yasir is a strong advocate for clinical trials, collaboration and local research.
Australian and New Zealand Urogenital and Prostate Cancer (ANZUP)
WACPCN Thoracic Tumour Collaborative
Australia New Zealand Gynaecological Oncology Group (ANZGOG)
eviQ Reference Committee
Fendler A, Au L, Khan Y, Turajlic S et al. Functional antibody and T cell immunity following SARS-CoV-2 infection, including by variants of concern, in patients with cancer: the CAPTURE study. Nature Cancer (2021).
Khan Y, Slattery TD, Pickering LM. Individualizing Systemic Therapies in First Line Treatment and beyond for Advanced Renal Cell Carcinoma. Cancers 2020, 12, 3750.
Pires da Silva I, Ahmed T, Khan Y, Larkin J, Menzies AM et al. Clinical Models to Define Response and Survival With Anti–PD-1 Antibodies Alone or Combined With Ipilimumab in Metastatic Melanoma. Journal of Clinical Oncology. 2022 Feb 10;JCO2101701.
Serra-Bellver P, Versluis JM, Khan Y, Long G, Larkin J, Lorigan P et al. Real-World Outcomes with Ipilimumab and Nivolumab in Advanced Melanoma: A Multicentre Retrospective Study. European Journal of Cancer 176 (2022) 121-132
Oey O, Sunjaya AF, Khan Y, Redfern A. Stromal inflammation, fibrosis and cancer: An old intuition with promising potential. World J Clin Oncol 2023; 14(7):230-246