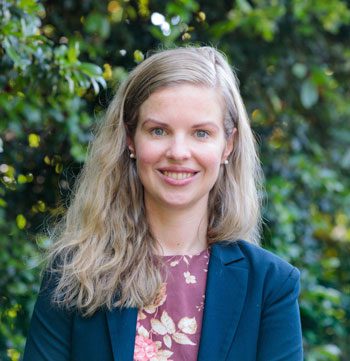 BAppSc(MRS)NucMed, MBBS, GradCertClinEpi, FRANZCR, Radiation Oncologist
Expert in
Breast, lung, skin, palliation and stereotactic radiation therapy
Interested in
Medical education
Special clinical interest in breast, lung, skin, palliation and stereotactic radiation therapy
Dr Ell completed medical school at University of Notre Dame in Western Australia in 2009.  Since that time she has also completed a Certificate in Clinical Epidemiology at University of Sydney.
She did her specialist training in NSW and during that time spent time at Calvary Mater, Newcastle, St George Public Hospital Kogarah and Prince of Wales Public Hospital in Randwick.
She completed a clinical/research fellowship at St Vincent's Hospital, NSW, focusing on head and neck and CNS malignancies.
Dr Ell has an interest in medical education, regularly presenting for HETI's "Basic Sciences in Oncology" course, presenting at RANZCR's NSW Radiation Oncology trainee teaching days and giving lectures to medical students.
EviQ Lung Cancer Reference Committee
Expert Reference Group, Cancer Australia "Investigating symptoms of lung cancer: a guide for health professionals".
EviQ GI Cancers Reference Committee
TROG
RANZCR
Medical Women's International Association