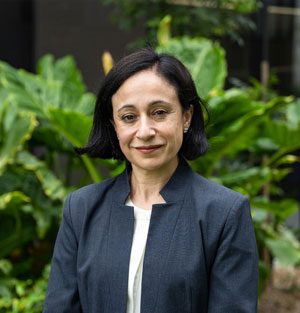 BSc (Hons) PhD MBBS FRACP, Medical Oncologist
Clinical interests in urological and gastrointestinal cancers, plus sarcoma.
A/Prof. Diakos is a member of several cooperative trials' groups and a senior research fellow in the Bill Walsh Translational Cancer Research Laboratory at the University of Sydney in the Kolling Institute. Her research focuses on identifying prognostic and predictive biomarkers of inflammation in patients with colorectal, ovarian, and other cancers. These markers can be used to help guide decision-making in treatment and predict the likely disease course.
Connie is dedicated to the education and training of the next generation of clinicians. She is a  conjoint senior lecturer at the University of Sydney and Co-Director of Training in the Department of Medical Oncology at Royal North Shore Hospital.
Connie puts you, the patient, at the centre of her care by ensuring you are empowered with the right information to be part of the decision-making process for your treatment. Connie is dedicated to offering high-quality, personalised care to her patients, and works within a collaborative multidisciplinary team environment.

Connie is passionate about clinical research and involved with a range of trials. She has had her research published a number of times including a paper in 2021 in which she co-authored an article about innovation in technology for breast cancer patients.
Cancer-related inflammation and treatment effectiveness. C.I. Diakos, K.A. Charles, D.C. McMillan, S.J. Clarke. Lancet Oncology 2014; 15: e493-503.
A data-driven, knowledge-based approach to biomarker discovery: application to circulating microRNA markers of colorectal cancer prognosis. F. Vafaee, C.I. Diakos, M.B. Kirschner, G. Reid, M. Michael, L.G. Horvath, Z.J. Cheng, Z. Kuncic, S.J. Clarke. npj Systems Biology and Applications 2018 4(1), 20.
The lymphocyte-to-monocyte ratio is a superior predictor of survival in comparison to established biomarkers of resectable colorectal cancer. J.C.Y. Chan, D.L. Chan, C.I. Diakos, A. Engel, N. Pavlakis, A. Gill, S.J. Clarke. Annals of Surgery 2017; 265(3), 539-546.
Tumour sidedness is not an independent prognostic marker of colorectal cancer patients undergoing curative resection: A retrospective cohort study. J.C.Y. Chan, C.I. Diakos, D.L. Chan, A. Engel, A. Gill, S.J. Clarke; PLOS One; 2019 14(6), e0218207.
A longitudinal investigation of inflammatory markers in colorectal cancer patients perioperatively demonstrates benefit in serial re-measurement. J.C.Y. Chan, C.I. Diakos, D.L. Chan, A. Engel, N. Pavlakis, A. Gill, S.J. Clarke. Annals of Surgery 2018; 267(6): 1119-1125.
Scalp cooling in integrated model of breast cancer care C. Diakos, S. Baron-Hay, L. Pugliano, E. Arnold, P. Mottlee, InSight +, May 2021.