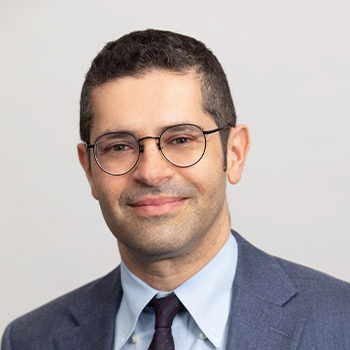 MBBS (hons) BSc(Med) PhD FRACP, Endocrinologist
Languages spoken
English and Arabic
Clinical interests in osteoporosis, bone loss in cancer patients, metabolic bone disease, atypical femur fractures, giant cell tumours, fibrous dysplasia, and osteogenesis imperfecta.
A/Prof Christian Girgis is an endocrinologist and a clinician researcher with interests in osteoporosis, metabolic bone disorders, and bone loss in cancer patients.
After completing a PhD at the Garvan Institute of Medical Research, he undertook an NHMRC Peter Doherty Postdoctoral Fellowship at the Westmead Institute for Medical Research and a visiting scholarship at the Salk Institute of Biological Studies in the USA.
A/Prof Girgis runs the Osteoporosis and Metabolic Bone Disorders service at Westmead Hospital and is an honorary consultant in the Department of Endocrinology at Royal North Shore Hospital.
He is the Program Director of the Masters of Internal Medicine (MMED) course at the University of Sydney.
Osteoporosis
Vitamin D
Sequential and osteo-anabolic therapies for osteoporosis
Spinal Cord Injury-related bone disease
Royal Australasian College of Physicians (RACP)
Australia and New Zealand Bone and Mineral Society (ANZBMS)
Endocrine Society of Australia (ESA)
American Society of Bone and Mineral Research (ASBMR)
US Endocrine Society
Crouch G, Dhanekula ND, Byth K,… Clifton-Bligh RJ, Girgis CM. The Sydney AFF Score: A Simple Tool to Distinguish Females Presenting with Atypical Femur Fractures versus Typical Femur Fractures. Journal of Bone and Mineral Research 2021 Feb 2. doi: 10.1002/jbmr.4255.
Girgis CM,

"Skeletal Muscle as Vitamin D Target, Basic Mechanisms" In

Vitamin D, Fifth Edition

, eds; Hewison M, Bouillon R, Goltzman D, Myer M, Welsh J, 2022



Girgis CM, Mokbel N, Digirolamo DJ. .Therapies for Musculoskeletal Disease: Can we Treat Two Birds with One Stone? Curr Osteoporos Reports 2014; 12(2):142-53
Girgis CM, Clifton-Bligh JR, Hamrick M, Holick MF, Gunton JE. Roles of Vitamin D in skeletal muscle: form, function and metabolism. Endocrine Reviews 2013; 34: 33-83.
Hu K, Cassimatis M,.. Girgis CM. Ethnic determinants of skeletal health in female patients with fragility fracture in a culturally diverse population. Bone Reports 2023: 18:101677