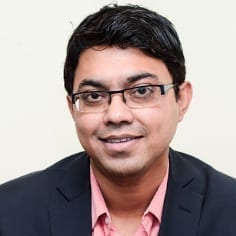 MBBS, MRCP, FRCR, Clinical oncologist
Expert in
Prostate, Bladder, Kidney, Penis, Stomach, Oesophageal, Conol,  Anal canal and Neuroendocrine cancer
Special clinical interest in Prostate, Bladder, Kindey, Penis, Stomach, Oesophageal, Colon, Anal canal and Neuroendocrine cancer.
Dr Prantik Das is consultant Clinical Oncologist with special interest in Urological and GI cancers. He is very interested in hypofractionated radiotherapy as a means to escalate radiation dose to tumours and improve outcomes. This radiotherapy can be optimally delivered with Image Guided Stereotactic Ablative Radiotherapy (SABR) with MR guidance. He is one of the national experts in MR Guided SBRT.
Dr Das is an honorary Assistant Professor in University of Nottingham and has been actively involved in various national and international clinical trials as Principal investigator and Chief investigator. 
Dr Das has been praised and appreciated by his patients highly. He has been awarded iWantGreatCare certificate of excellence in 2023 for delivering outstanding care.
Dr Das is a first author of more than 30 publications in peer-reviewed journals, and also worked as reviewer and editor in international journals. He has also contributed as author of Pocket Guide to Human Tumors and Cancer by CRC press USA. View a full list of Dr Das's publications here. 
American Society of Clinical Oncology
European Society of Medical Oncology
Royal College of Radiologist UK
Royal College of Physician UK