Diffuse large B-Cell lymphoma in remission following novel combination treatment with polatuzumab vedotin (Polivy)
Professor George Follows, Consultant Haematologist and Catherine Dye, Haematology Clinical Nurse Specialist
MRI fusion vector prostate biopsy under local anaesthetic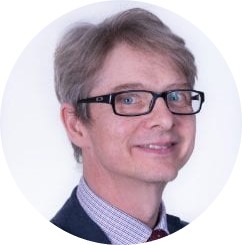 A 75-year-old female approached GenesisCare following an unproven diagnosis of diffuse large b-cell lymphoma (DLBCL).
The patient had a low-grade presentation with lymphadenopathy as her only symptom. She had a very active lifestyle and was otherwise well. The patients' local hospital in Peterborough has been unable to secure a definitive diagnosis from two core biopsies, therefore a further biopsy was required to confirm the specific type of lymphoma.
The lymph node biopsy obtained at GenesisCare in Cambridge identified high-grade diffuse large b-cell lymphoma with non-germinal centre. A subsequent PET-CT scan showed nodal disease above and below the diaphragm in keeping with stage 3 lymphoma. The patient had stable bloods with marginally elevated LDH.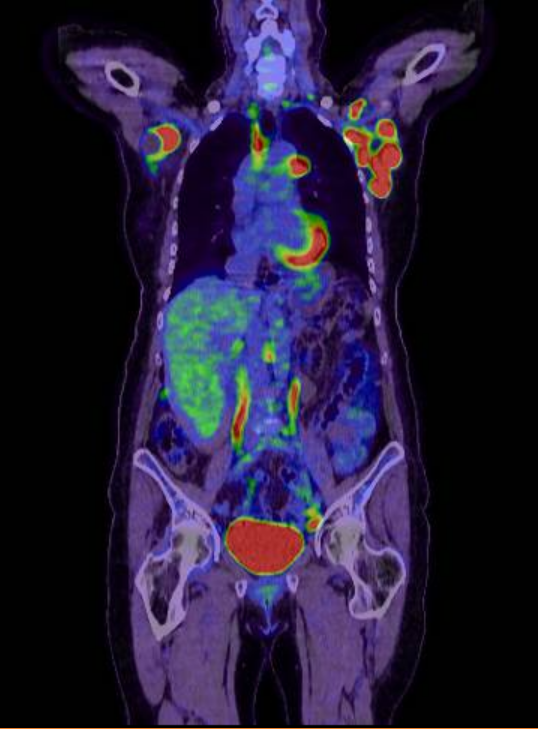 Challenges of presentation and choice of treatment
DLBCL is the most common form of non-Hodgkin lymphoma and is an aggressive blood cancer. Standard of care for untreated DLBCL is R-CHOP: Rituximab plus CHOP (cyclophosphamide, doxorubicin, vincristine, and prednisone). This is curative in 60% of patients. However, around 40% of patients treated with R-CHOP either will relapse or be refractory. In addition, R-CHOP is known to have many cytotoxic side effects, including chronic peripheral neuropathy (CPN), hair loss, nausea and fatigue, that can significantly impact daily activities and quality of life for patients.
Recently, a new treatment strategy has emerged where vincristine is replaced by polatuzumab vedotin (Polivy, Roche) with the combination known as R-CHP (or pola-R-CHP). Polatuzumab vedotin is an antibody-drug conjugate targeting CD79b, a component of the B-cell antigen receptor involved in cell signalling and expressed on the surface of malignant B cells.
In the Phase III POLARIX trial, [1] over 800 treatment-naïve patients with DLBCL were randomized to receive either standard R-CHOP therapy or R-CHP. Both treatments were given in six cycles, followed by two cycles of rituximab monotherapy. After a median follow up of 28.2 months of follow-up, progression-free survival was significantly higher in the R-CHP group than the R-CHOP group (76.7% vs 70.2%, P=0.02). Overall, the risk of disease progression, relapse or death was 27% lower in the R-CHP group than the R-CHOP group with a similar safety profile between the two groups and no new adverse events noted. In addition, the severity of peripheral neuropathic side effects was reported to be lower in the R-CHP group, although significance was not tested.
Currently, patients in the UK are only able to access R-CHP treatment as first-line therapy for DLBCL through independent healthcare providers. Although approved by NICE for treating relapsed or refractory DLBCL in combination with rituximab and bendamustine, [2] a decision on recommendation for untreated DLBCL is not expected until January 2023. [3]  
Elsewhere, R-CHP was approved as first-line therapy for patients with DLBCL by the European Commission in May 2022, and a decision by the FDA for US patients is expected in April 2023. [4]
The GenesisCare team discussed the results of the POLARIX trial with the patient, explaining that a higher proportion of patients in the study who received R-CHP had stayed in remission compared to those who received R-CHOP.
Based on that discussion, treatment with curative intent was agreed upon and planned with R-CHP in six cycles, followed by two cycles of rituximab monotherapy. Treatment was administered between May and October 2022, with each cycle given every 21 days.
During the first cycle, the patient reported pain radiating from her knees down to her feet. After a review of the product literature this was attributed to polatuzumab. In the first instance the polatuzumab was omitted for the subsequent cycle, and as anticipated the pain improved, confirming suspicions that this was the polatuzumab. After consultation with the patient and a review of risk vs benefit of treatment, it was agreed we would reintroduce Polatuzumab at a reduced dose of 1.2mg/kg which was administered without any further episodes of pain.
Cycle seven was adapted to rituximab with polatuzumab to account for the removed dose. Cycle eight was given as rituximab monotherapy as planned.
After two cycles of R-CHP treatment, the patient had an early interim PET-CT scan. Encouragingly, this showed an excellent response to treatment with a Deauville score of three.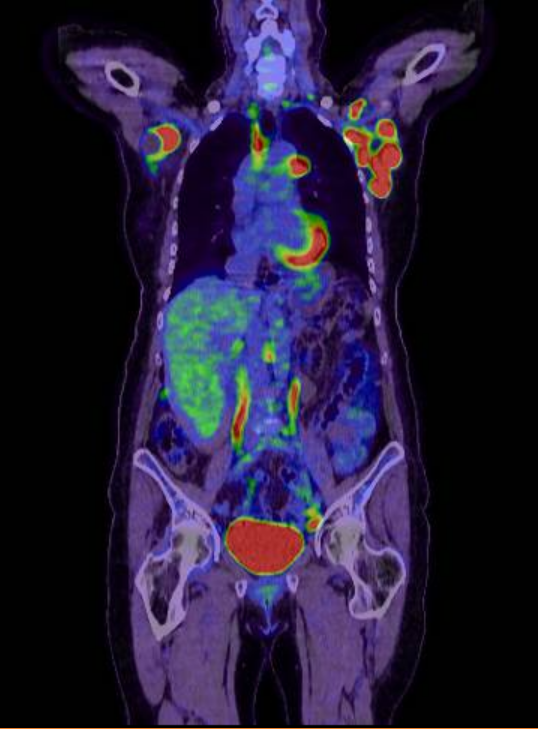 (Early PET CT scan) 
A follow-up CT scan in November 2022, following the end of treatment showed complete radiological remission. The patient's bloods were also stable following her treatment.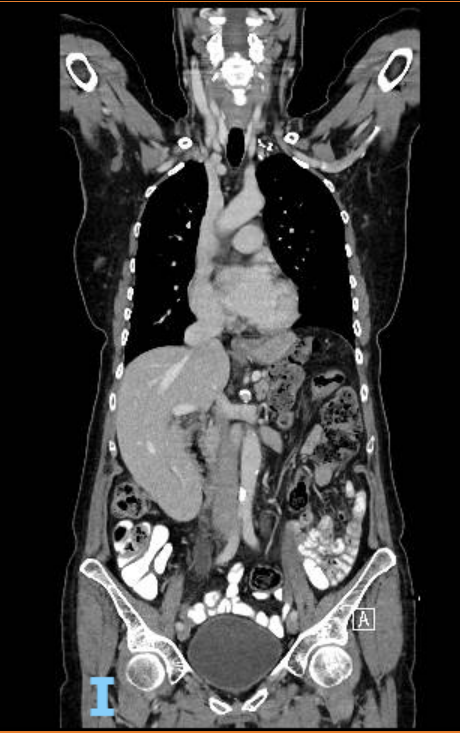 (End of treatment CT scan)
The patient will be reviewed every three months for a year, reducing to every six months and then annually.
Side effects and support provided
As is usually expected with treatment for DLBCL, the patient experienced some challenging side effects during her treatment. She developed symptomatic anaemia, causing fatigue and consequent low Hb noted on her bloods. As a result of her fatigue, she could not be as active as she would have usually been. 
We were able to treat her anaemia with erythropoietin (EPO) and provide emotional support. We were pleased to see her recover well and return to her normal daily activities.
The patient also experienced hair loss and the GenesisCare nursing team were able to offer advice and put her in touch with a wig specialist.
Healthcare systems worldwide are continually challenged to keep up with promising developments in treatment. However, from the patient's perspective, time is of the essence.
Thankfully, in this case, we were able to offer our patient a treatment option through her private medical insurance that is not yet currently available outside independent healthcare. Although not the first in the UK, this patient was the first to receive R-CHP as first-line therapy for DLBCL at GenesisCare. Following this successful case, Professor Follows and the GenesisCare team at Cambridge are highly likely to use R-CHP for this specific patient group.
Whilst data from trials gives us one perspective, the experience of the individual dealing with a difficult diagnosis and subsequent treatment plus associated side effects is also crucial. We were pleased to hear that the patient found the treatment process straightforward. She also said she felt relaxed when she was with us and comfortable approaching any team member to discuss any issues.
References 
Tilly H. et al., "Polatuzumab Vedotin in Previously Untreated Diffuse Large B-Cell Lymphoma," N Engl J Med, vol. 386, pp. 351-63, 2022. 
NICE (National Institute for Health and Care Excellence), "Polatuzumab vedotin with rituximab and bendamustine for treating relapsed or refractory diffuse large B-cell lymphoma," 23 Sep 2022. [Online]. Available: https://www.nice.org.uk/guidance/ta649/chapter/1-Recommendations. [Accessed 15 Nov 2022].
NICE (National Institute for Health and Care Excellence, "Polatuzumab vedotin in combination for untreated diffuse large B-cell lymphoma [ID3901]," Expected publication date: 18 January 2023. [Online]. Available: https://www.nice.org.uk/guidance/indevelopment/gid-ta10785. [Accessed 15 Nov 2022].
Genentech, "FDA Accepts Supplemental Biologics License Application for Genentech's Polivy Combination for People With Previously Untreated Diffuse Large B-Cell Lymphoma," 15 Aug 2022. [Online]. Available: https://www.gene.com/media/press-releases/14965/2022-08-15/fda-accepts-supplemental-biologics-licen. [Accessed 15 Nov 2022].