Theranostics
Theranostics is an innovative step towards personalised medicine, combining PET/CT imaging and radiopharmaceuticals to diagnose and treat metastatic disease.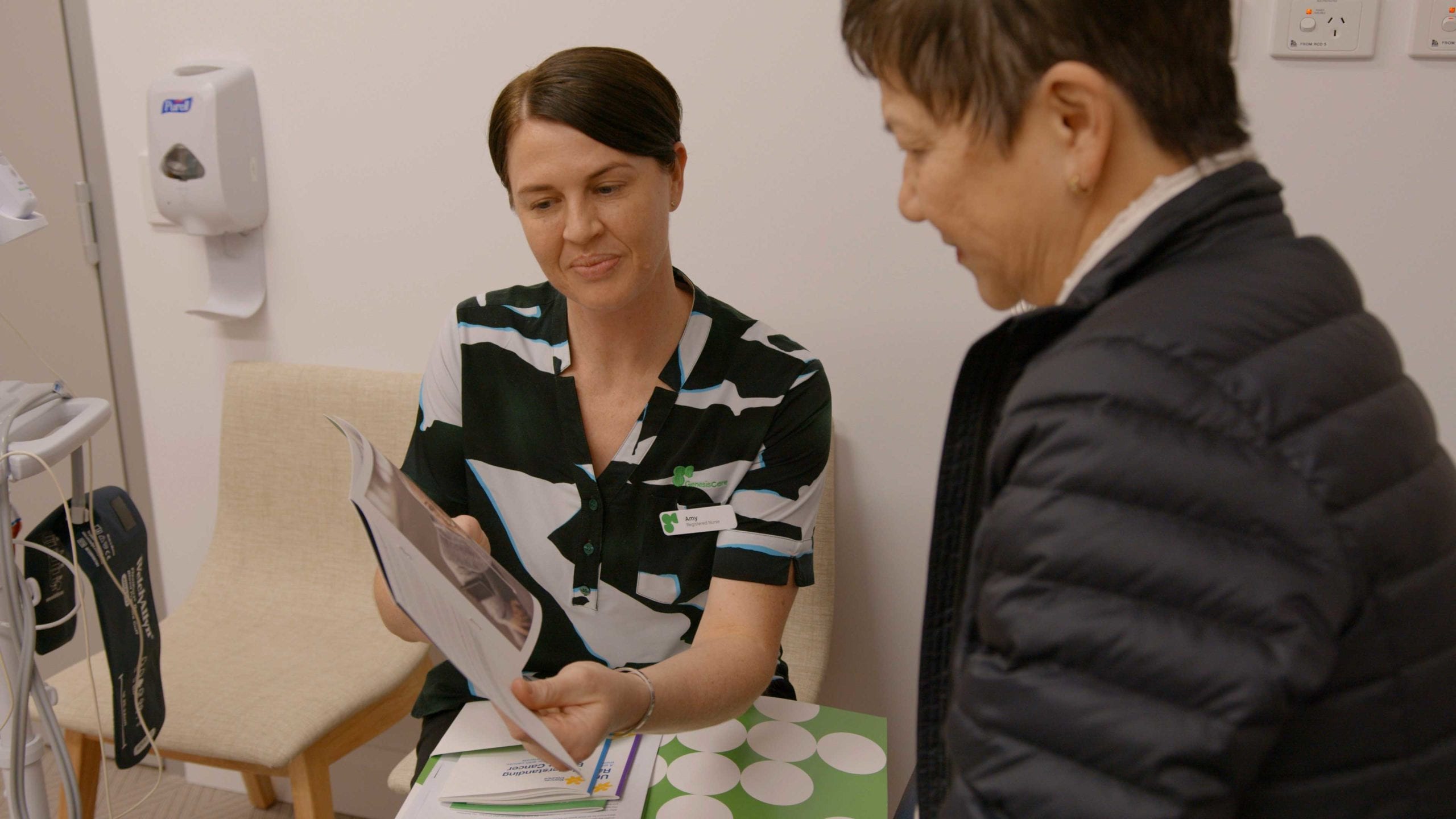 Theranostics - meeting the clinical needs of our patients
Theranostics is described by some as the therapeutic equivalent of a 'smart homing missile' to seek and destroy cancer cells.It is an innovative approach using peptide receptor radionuclide therapy (PRRT) to seek out and destroy cancer cells. PRRT uses molecules that preferentially attach to the receptors on cancer cells to locate and deliver a dose of radiotherapy directly into the tumour site – exploiting the vulnerability of the cancer to detection and attack from its own signalling mechanisms.
At GenesisCare, our Theranostics service uses the radioactive isotope 68Gallium to identify and diagnose cancerous targets via tumour receptors in PET/CT imaging. It then uses a second radioactive isotope, 177Lutetium, to treat them using PRRT. If the tumour receptors are visible on a PET/CT scan, the 177Lutetium isotope can travel directly to the main tumour and any metastatic sites where it delivers a dose of radiation and destroys the cancerous cells, while avoiding healthy tissues.
A complete Theranostics diagnostic and treatment pathway is provided as an outpatient service in our purpose-built facilities including the latest generation PET/CT scanners. We produce our own radionuclides in our on-site radiopharmacy in Windsor.
Our Theranostics treatments are offered as outpatient appointments in our state-of-the-art therapy suites and are typically delivered in up to four to six cycles, with each treatment lasting between two to six hours
Governance and expertise in Theranostics
The service is provided by an experienced multidisciplinary team of nuclear medicine experts, including nuclear medicine physicians, physicists, imaging professionals and a dedicated radionuclide therapy nurse. Patient safety is a priority and we have a robust clinical governance framework, requiring a continuous process of peer review and credentialing, with protocols based on best practice from world centres of excellence.
A specialist radionuclide therapy nurse and a nuclear medicine physicist are available to support and answer any questions throughout the treatment. We also provide dedicated support via telephone for any post treatment questions. GenesisCare is proud to be in the top 1% of healthcare providers worldwide and we consistently achieve a net promoter (patient satisfaction) score over 95%.
The UK's first 177Lutetium PSMA therapy. A new future for advanced prostate cancer
Described as a totally new weapon in the anti-cancer armoury, Theranostics is an innovative approach using peptide receptor radionuclide therapy (PRRT) to seek out and destroy cancer cells. PRRT uses molecules that preferentially attach to the receptors on cancer cells to locate and deliver a dose of radiotherapy directly into the tumour site – exploiting the vulnerability of the cancer to detection and attack from its own signalling mechanisms.
This approach has shown particular benefits in the treatment of advanced prostate cancer and offers the potential for improved symptoms and quality of life, with minimal side effects. In May 2019, GenesisCare treated the first patient in the UK with 177Lutetium PSMA therapy, a proven Theranostic approach for metastatic castration- resistant prostate cancer (mCRPC).
The team has so far treated more people with this modality than any other provider in the UK and is accepting patients from across the UK, Middle East, USA and Europe.
Theranostics – harnessing the power of prostate specific membrane antigen (PSMA)
Theranostics is hailed as a major step forward in the diagnosis and treatment of metastatic castration-resistant prostate cancer (mCRPC), which has returned and spread to other sites after standard androgen-deprivation therapy has become ineffective. The objective is to slow tumour growth, reduce symptoms and improve quality of life.
Theranostics is a highly personalised approach to cancer medicine that combines two techniques in one: diagnostic imaging and therapy. The diagnostic approach uses a radioactive tracer bound to molecules (or ligands) that are specific to receptors found on the surface of cancer cells, enabling detection of metastases using PET/ CT.
The therapy, 177Lutetium PSMA, is equally specific and delivers targeted radiation to the same protein receptors (also called radioligand therapy). In the management of prostate cancer, PSMA-based compounds (ligands) are mostly used for both detection and treatment.
The PSMA protein is over-expressed on prostate cancer cells and has been the subject of numerous studies highlighting its suitability as a treatment target.¹ For diagnosis and therapy, a PSMA ligand is paired with a suitable radionuclide, of which there are various options, although 177Lutetium and ⁶⁸Gallium are discussed here and form the basis of the service provided at GenesisCare.
Destroy – with 177Lutetium PSMA therapy
In recent years, the potential for PSMA- targeting as a treatment approach has led to increased interest in peptide receptor radionuclide therapy (PRRT). Compared with external beam radiotherapy, PRRT has the potential to deliver 10 to 100 times the radiation dose direct to the target tumour tissue with minimum toxicity to healthy tissue. 177Lutetium is a ß- and γ-emitting radioisotope and often preferred for PRRT of prostate cancer due its physical properties. It is a medium energy emitter with a short maximal dose tissue penetration depth (2–3 mm) and a relatively long half-life of 6.7 days. The most commonly used for PSMA is 177Lu-PSMA-617 which shows strong accumulation in prostate cancer cells.
What does a cycle of treatment involve?
177Lutetium PSMA therapy is delivered as an outpatient appointment
177Lutetium PSMA therapy is infused with saline over a period of two hours
Post-treatment radioactivity level is measured hourly (recorded at a distance of one metre)
When radioactivity reduces to safe levels, the nuclear medicine consultant and technician discharge the patient (after approximately two to four hours)
The patient is given radiation protection information and provided with details of any restrictions that they should follow for the next three days.
Side effects and toxicity
177Lutetium PSMA therapy is well tolerated with low toxicity (when compared with conventional treatments). The advantage of reduced side effects means that the next treatment cycle can start quickly and that treatment can be undertaken as an outpatient. A patient will typically receive four to six cycles of treatment.
A Phase III study concluded that men with metastatic castration-resistant prostate cancer (mCRPC) treated with 177Lutetium PSMA therapy showed high response rates, low toxicity and reduction in pain following progression after conventional treatment.1 Men who received 177Lutetium PSMA therapy plus best standard of care had a 38% reduction in risk of death (median overall survival benefit of 4 months) and a 60% reduction in the risk of radiographic disease progression or death (median radiographic progression free survival benefit of 5 months) compared to best standard of care alone.
Furthermore, a Phase II study concluded that 57% of patients achieved a PSA decline of 50% or more when treated with 177Lutetium PSMA therapy.2  This data is very promising, particularly when compared with established agents (e.g. 39% response observed after treatment with cabazitaxel). Objective response by imaging in the nodal or visceral disease was reported in 82% of patients with measurable disease. These results demonstrate that targeted radionuclide treatment with 177Lutetium PSMA therapy has high response rates, low toxicity and reduction of pain in mCRPC patients who progress after conventional treatments.
These results also demonstrated improved QoL indicators and overall survival rates from three to 13.5 months.
Two years on – A vision realised
June 2021 brought promising news in the world of cancer treatment as a major study proved the effectiveness of 177Lutetium PSMA Therapy in the treatment of mCRPC.
The phase 3 VISION trial demonstrated that, when compared against best standard of care alone, patients who received 177Lutetium PSMA therapy on top of best standard of care saw a 38% reduction in risk of death and a 60% reduction in the risk of disease progression or death.1
GenesisCare has been delivering 177Lutetium PSMA therapy since May 2019 and in that time we have treated over 100 patients, more than any other independent or NHS centre in the UK. Led by Dr Yong Du, Clinical Director in Nuclear Medicine and Theranostics, the team has seen first-hand the positive effect of this treatment on many of their patients.
The first treatment was a 'Hurray' moment
– Patient quote
With a nearly 40% reduction in risk of death (when compared with standard of care alone), Dr Du is proud and excited at how important this therapy has become. Not only making the detection of cancer easier, the pure mechanism of 177Lutetium PSMA therapy means targeting and treating is precise and accurate. The result of this 'target-seeking missile' treatment is a significant reduction in adverse effects.
 68Gallium PSMA PET/CT scans showing baseline in April 2020 (left) and follow-up scan after six cycles of 177Lutetium PSMA therapy in March 2021 (right)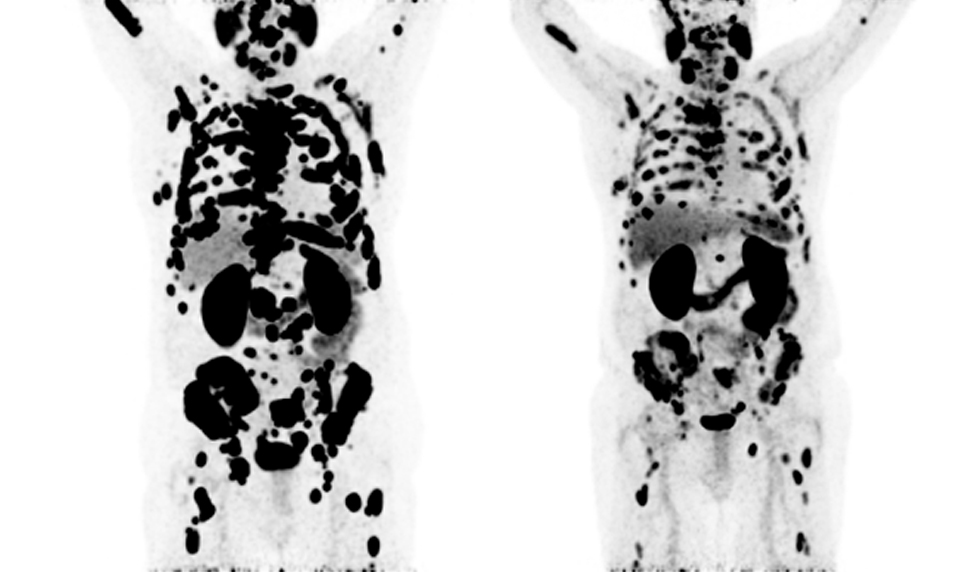 Previously, 177Lutetium PSMA therapy was only available in Germany and Australia, but it is now a treatment offered in the UK to patients where other therapeutic options have failed or are unable to be tolerated.
We consider referrals for 177Lutetium PSMA therapy for patients with metastatic castration-resistant prostate cancer (mCRPC) who have exhausted or are ineligible for approved alternative options. They must demonstrate adequate uptake of PSMA ligands on the basis of a pre- therapy imaging study to be considered for treatment.
Full inclusion and exclusion criteria are available from:
enquiries@genesiscare.co.uk
Refer for 177Lutetium PSMA therapy
To refer a patient or enquire about 177Lutetium PSMA therapy, please send a referral letter to:
enquiries@genesiscare.co.uk
Your referral should include this information:
Patient clinical history
Results from a ⁶⁸Gallium PSMA PET/CT if done within 28 days
Any recent blood tests and/or any other correlative imaging
Patient insurance details/payment status
Any translation services the patient may need
We welcome referrals from anywhere in Europe, the Middle East and the USA. Please enquire for our special international patient services.
Reference
Morris M, et al. Phase III study of lutetium-177-PSMA-617 in patients with metastatic castration-resistant prostate cancer (VISION). Journal of Clinical Oncology. 2021;39(18_suppl):LBA4-LBA4.
Hofman M, et al. [ 177 Lu]-PSMA-617 radionuclide treatment in patients with metastatic castration-resistant prostate cancer (LuPSMA trial): a single-centre, single-arm, phase 2 study. The Lancet Oncology. 2018;19(6):825-833.
Meyrick D, et al. Real-World Data Analysis of Efficacy and Survival After Lutetium-177 Labelled PSMA Ligand Therapy in Metastatic Castration-Resistant Prostate Cancer. Targeted Oncology. 2021;16(3):369-380.
This information is for healthcare professionals only.
Radium-223 therapy is proven to reduce pain and improve quality of life in metastatic castration-resistant prostate cancer (mCRPC) patients with painful bone metastases who have had or aren't suitable for docetaxel and can also help some men live longer lives [1].
Radium-223 therapy is a targeted alpha therapy for mCRPC and is recommended by NICE [2]. It is also called Radium-223 dichloride therapy or Xofigo (Bayer AG). We offer this targeted treatment at our specialist outpatient oncology centres in Oxford and Windsor as part of our Theranostics service led by world-leading expert Dr Yong Du.
Nuclear medicine plays an increasingly important role in the management of patients with mCRPC and we know how important quick access to treatments is. We aim to treat patients two weeks from referral to help reduce pain and improve their quality of life as soon as possible. This two-week time period is how long it takes to order and receive the specified dose required for each patient from the manufacturer.
How does Radium-223 therapy work?
Radium-223 therapy uses a radioactive isotope, Radium-223, to deliver radiation to cancer cells in the tumour microenvironment while minimising toxicity to surrounding tissues.
Radium-223 is a calcium mimetic and is therefore taken up by areas of increased bone turnover in skeletal metastases. The short range of the alpha radiation means damage to nearby healthy tissues is limited making it an effective and more targeted therapy than chemotherapy. This is a step-change in how these patients have been treated in the past.
Radium-223 therapy is normally given as a course of up to six treatment cycles that are each four weeks apart, and is administered in our specialist outpatient cancer centres in Oxford and Windsor.
Around two weeks after each treatment cycle, we'll conduct a blood test and a consultation (either in person or using our remote consultation using our Telehealth videoconferencing platform) with the patient to ensure it is safe to continue treatment without unnecessary risks of severe side effects.
Who can I refer for Radium-223 therapy?
Our consultants make treatment decisions based on multiple factors including the patient's wellbeing and comorbidities. A patient may be eligible for Radium-223 therapy if they:
Have had hormone treatment that is no longer working
Have either had or aren't suitable for docetaxel
Have cancer that has spread to bones but not other organs
Experience bone pain
Exclusion criteria:
Patients who have cancer that has spread to other organs such as the liver or have large amounts of cancer in their lymph nodes. In these patients with visceral metastases, 177Lutetium PSMA therapy, another innovative form of Theranostics available at our centre in Windsor, may be offered to these patients.
Patients with faecal incontinence, due to the risk of exposing other people to radiation when handling soiled clothing or sanitary pads.
Side effects and toxicity
Side effects of Radium-223 therapy aren't usually serious. Patients may experience a temporary reduction in blood cell production (anaemia, thrombocytopenia, neutropenia, pancytopenia, leukopenia or lymphopenia) as well as fatigue and some patients may also have:
Diarrhoea
Vomiting
Nausea
Injection-site reactions
Generalised bony aches and pain or a pain flare
Our Theranostics team will continue to follow up with the patient's health and wellbeing by phone or email during and after their treatment and will be available by phone if there any concerns or serious side effects.
To ensure radiation safety for our Radium-223 patients and others, we provide each patient with information regarding hygiene practices, fertility and sexual precautions, and a treatment record to carry with them at all times and when traveling abroad until advised not to.
We carry out treatments in dedicated take-up or chemotherapy rooms that have been set-up to provide a radioactive intravenous medicine within our specialist cancer centres. We also have additional infection-control measures in place to limit risk to patients and staff within our centres. Find out more about our COVID-19 safety measures.
Led by Dr Yong Du, Clinical Director – Nuclear Medicine and Theranostics, our dedicated team is highly skilled and specially trained to manage Radium-223 treatments safely and compassionately. We have clinical nurse specialists and expert nuclear medicine nursing support to deliver high-quality and patient-centred care throughout the treatment pathway.
As a global company, we have access to many of the latest evidence-based innovations and techniques from around the word that are proven to make a difference to patient's lives. We have implemented international best-practice processes in our Theranostics service to optimise care provision, minimise referral to treatment time and improve patient experience.
Referral and treatment pathway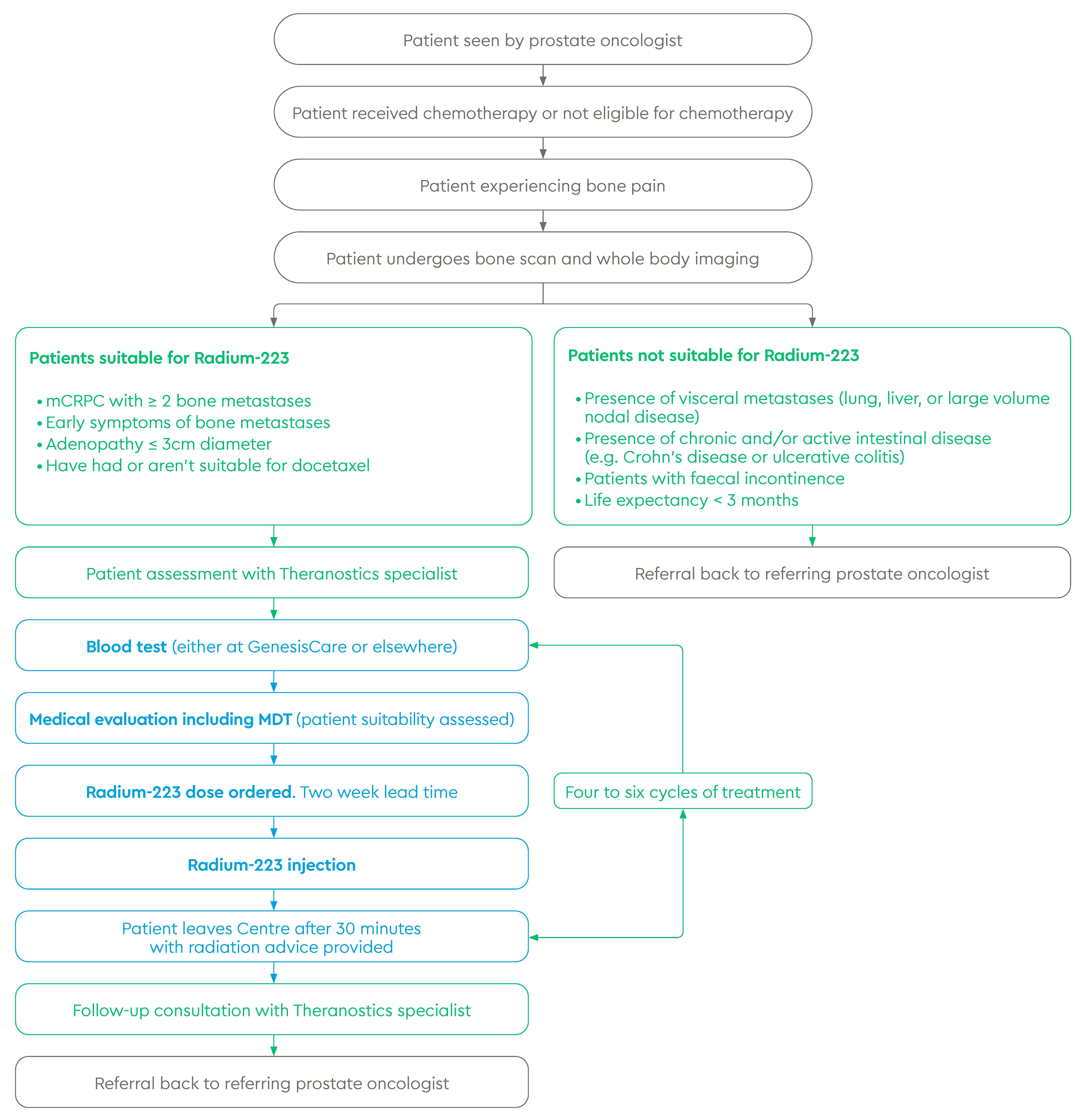 How effective is Radium-223 therapy?
A randomised double-blind placebo-controlled trial (ALSYMPCA) compared Radium‑223 with placebo in people with hormone-refractory prostate cancer with painful bone metastases [1]. In the trial, Radium-223 was found to prolong overall survival with favourable safety in patients with metastatic castration-resistant prostate cancer and symptomatic bone metastases compared with placebo. Median survival across 921 patients was 14.0 months in the Radium-223 group vs 11.2 months in the control group (HR 0.70, CI 0.55-0.88, two-sided P 0.002). Radium-223 therapy was also associated with low myelosuppression rates and fewer adverse events.
A significantly higher proportion of patients in the Radium-223 group had a meaningful improvement in their quality of life during the treatment period when compared to the placebo group according to their FACT-P score (25% vs. 16%, P = 0.02).
94% of patients in the Radium-223 group vs 97% in the control group had treatment-emergent adverse events (TEAEs) during treatment and up to 12 weeks after the last injection. Three year safety data shows that Radium-223 remained well-tolerated, with low myelosuppression incidence and no new safety concerns [3].
We know that painful bone metastases can have a profound impact on patients' and their families' quality of life. Bone metastases can affect mobility, cause fatigue, and make it difficult for patients to carry out their usual daily activities.
While Radium-223 therapy aims to improve quality of life by slowing disease progression and reducing pain, we also offer personalised wellbeing therapies that have been shown to ease cancer-related concerns at no extra cost to patients or their insurers. This is made possible through our unique partnership with the Penny Brohn UK charity. Every GenesisCare patient is offered access to a range of therapies, such as acupuncture, massage and counselling, to support them throughout this challenging time.
Refer for Radium-223 therapy
References
Parker C, Nilsson S, Heinrich D, Helle S, O'Sullivan J, Fosså S et al. Alpha Emitter Radium-223 and Survival in Metastatic Prostate Cancer. New England Journal of Medicine. 2013;369(3):213-223.
Radium-223 dichloride for treating hormone-relapsed prostate cancer with bone metastases | Guidance | NICE [Internet]. Nice.org.uk. 2021 [cited 23 February 2021]. Available from: https://www.nice.org.uk/guidance/ta412
Parker C, Coleman R, Sartor O, Vogelzang N, Bottomley D, Heinrich D et al. Three-year Safety of Radium-223 Dichloride in Patients with Castration-resistant Prostate Cancer and Symptomatic Bone Metastases from Phase 3 Randomized Alpharadin in Symptomatic Prostate Cancer Trial. European Urology. 2018;73(3):427-435.