Spacers for prostate cancer radiation therapy
We believe you deserve the best and that's why we offer services that help reduce side effects of treatment and improve your quality of life.
Spacers for prostate cancer radiation therapy
Insertion of a spacer is an effective technique to reduce the side effects of prostate radiation therapy.
The spacer acts as a temporary cushion between the prostate and rectum in order to protect the rectal wall from receiving radiation therapy dose, and in turn can help reduce side-effects including urinary, bowel and sexual function.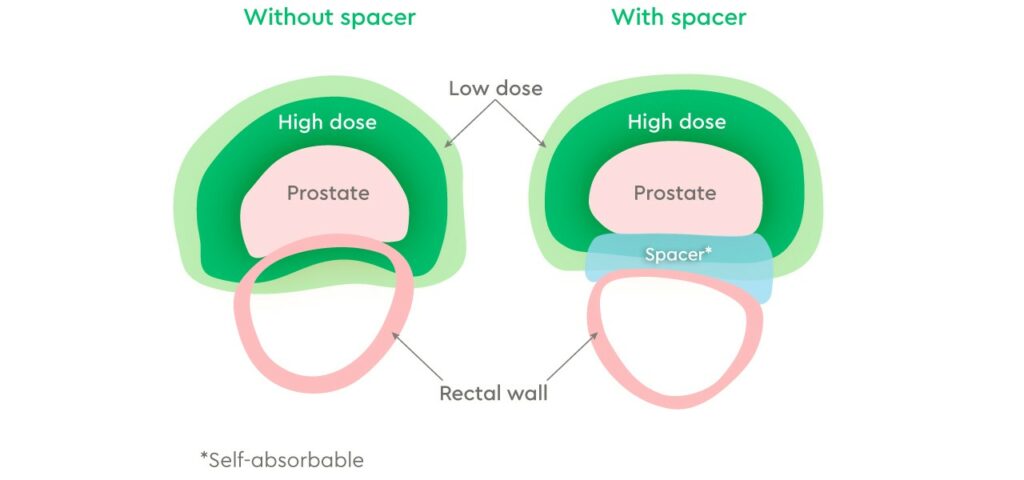 GenesisCare utilises two types of spacers for prostate cancer treatment:
Barrigel
SpaceOAR
Spacers can be used for both internal and external radiation therapy. The spacer gel will dissolve a few months after radiation therapy has been completed.
Avoiding radiation therapy dose to the rectum reduces the potential for rectal inflammation during therapy and further lowers the small risk of delayed rectal bleeding after treatment.
The spacers are routinely used worldwide, but spacers aren't for everyone. Your doctor is the best person to advise you on suitability for your condition.
Barrigel is a hyaluronic acid material inserted into the tissue planes between the prostate and the rectum, pushing the rectal wall away from the prostate, helping to reduce unwanted radiation doses to the frront rectal wall. Barrigel is a natural, biodegradable material that stays in place for 6 to 9 months and is then broken down by the body over time.
How is Barrigel inserted?
The spacer procedure is usually performed under a light general anaesthetic, although occasionally performed under sedation. An ultrasound probe is inserted into the rectum to 'visualise' the prostate, bladder, rectum, and the area surrounding these organs. Thin needles are used to insert the markers into the prostate through the area of skin between the scrotum and anus called the perineum. Using a separate needle, the Barrigel spacer is injected into the space between the rectum and the prostate to increase this area. The gel is sculpted to fit so each insertion is individualised. The procedure takes between 15-30 minutes.
SpaceOAR hydrogel is a water-based soft gel implant that is injected before you start your radiation therapy. SpaceOAR hydrogel stays in place for around three months. After that, it's naturally absorbed by the body.
How is SpaceOAR inserted?
SpaceOAR Hydrogel is inserted via the same method as described for Barrigel above.
Access to spacing is not generally available in public hospitals so the spacer will be inserted in a private hospital. It will likely be a day procedure done under a light general anaesthetic, although occasionally performed under sedation. You will need to spend a few hours in hospital until the anaesthetic has worn off. Generally, you will not need to stay in hospital overnight and will go home afterwards.
Your doctor may decide to also insert gold fiducial marker seeds, which are inserted at the same time as your spacer gel. These markers are the size of a grain of rice (3 x 1mm) and when inserted into the prostate are seen on X-rays taken by the treatment machine just before your treatment. These markers help pinpoint the location of the prostate so the radiation therapy can be delivered to precisely the right location each time, to ensure maximum effect on the cancer cells. The gold seeds are permanent and can be left in the prostate as they are inert, they do not move or degrade with time.
Side effects are generally mild, and many people do not experience any. However, following insertion of the spacer, some people may experience procedure-related side effects, such as injection site pain and possible bruising at the injection site in the perineum. You may experience a mild to moderate sensation of rectal filling that may make you feel as if you need to empty your bowel. Very occasionally, some people may experience cramping pain in the rectum or possible urinary symptoms. It is important to let your doctor know if you do experience any side effects.
Make an enquiry
Whether you're in need of treatment or would like more information please complete our enquiry form and we will get back to you - usually within 24 hours.
Enquire Now