COVID-19 support for clinicians
We are committed to supporting our referrers during these immensely difficult and challenging times and to ensuring that our patients continue to receive the best possible care without delay.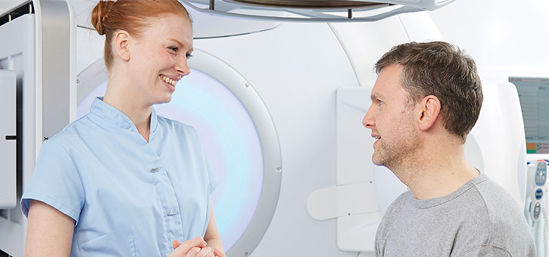 Continuing to treat patients
GenesisCare continues to provide access to patient treatment, without delay.
We know how important it is to be able to offer your patient treatment options and solutions in times of uncertainty.
We are working with the healthcare community to ensure all patients have continued, safe, high quality access to radiation therapy and medical oncology services close to home.
GenesisCare radiation therapy and medical oncology centres remain open and are implementing best-practice infection control measures based on available evidence and global and national guidelines to ensure the safety of all patients and healthcare staff.
People with cancer can continue to:
access care within a week
receive remote telehealth consultations
be reassured by stringent infection control and social distancing measures
Refer for chemotherapy and radiation therapy
For patients starting or continuing cancer treatment, each case will be reviewed individually by an eMDT which may involve the referring clinician.
It's important to note that the extent of testing for COVID-19 in Australia is amongst the highest in the world, and this gives us a good picture of the infection rates in the community. Currently this rate is still low hence the risk of infection due to casual contact in healthcare settings is also low. This is different to the situation in Europe, where testing rates are much lower and there is a higher rate of infection in the community.
The risks associated with not continuing cancer treatment may well outweigh the risks of contracting COVID-19 in a well-managed treatment environment.
In response to the escalating COVID-19 health crisis, we are ensuring our cancer patients are still able to receive the highest quality cancer care in a safe environment, particularly through the use of evidence based protocols which shorten the length of the treatment course."
- Prof. Peter O'Brien - Chief Medical Officer – Oncology Australia, GenesisCare
Frequently asked questions
Stereotactic ablative radiotherapy (SABR) enables treatment of a number of tumour types using fewer fractions – five or less. This hypofractionated approach is non-invasive and has quality of life benefits associated with fewer trips to clinics for treartment. We have significant expertise and capacity across our network to treat lung, pancreas and liver, brain, prostate and oligometastatic disease (all cancers) with SABR. We will be offering these hypofractionated radiotherapy treatments where possible and delaying any chemotherapy that will compromise the patient's immune system, putting them at higher risk of becoming unwell from respiratory illness. We're working with some of the country's leading SABR specialists and we are ready to treat patients alongside our existing cases.
All available evidence and best-practice protocols are evaluated by members of tumour-specific Tumour Reference Groups to establish our protocols. TRGs for breast, skin, genitourinary and head and neck cancers meet regularly and review care plans aligned with evidence-based best practice.
Regular peer-review and credentialing for specific areas of practice are also ongoing to ensure the highest standards of quality and safety.
Our doctors will continue to discuss with patients the risk and benefits of having treatment at this time. Informed consent is required and should be clearly noted.
At GenesisCare we receive referrals from two main pathways:
Referrals from GPs, dermatologists, urologists and other specialists
Referrals from surgeons and oncologists
We endeavour to treat patients within five to seven days from referral. These timings depend on whether we have all the histology results available for the cancer MDTs to make treatment decisions, otherwise we operate on full workforce capacity in terms of radiotherapy planners, physicists, therapy radiographers and nurses.
Wherever safe to do so, patients will have treatment, delayed until after symptoms have resolved and isolation period is over. However, there will be occasions where it is clinically necessary for treatment to continue.
There are 34 GenesisCare centres in Australia, with several in regional areas. The intention is that patients can access world-class care where they need it. Find a centre close to you below.