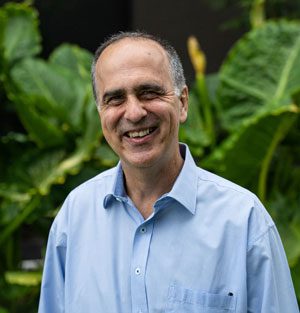 MBBS, FRANZCR, Radiation Oncologist
Expert in
Gastrointestinal and genitourinary and cancers.
Special clinical interests in gastrointestinal and genitourinary cancers.
Andrew is a leader in radiation oncology, with over 20 years experience as a gastrointestinal and genitourinary cancer specialist.
Andrew is a passionate and energetic clinician who's committed to building caring and honest relationships with his patients. His experience and insight makes him the doctor many patients in Sydney turn to when they want a second opinion knowing they are seeing one of Australia's leading specialists in his field.
Andrew has been awarded the Denise Lonergan award by the Royal Australian and New Zealand College of Radiologists (RANZCR) for outstanding commitment, participation and leadership in training and education for radiation oncology.
Andrew is a committed teacher for medical students and junior doctors. He lectures at the University of Sydney and has been the Director of Registrar Training for more than 20 years.
Andrew is a leading researcher with more than 140 peer reviewed publications and is the chief investigator in several important NHMRC funded National clinical trials in prostate and pancreatic cancer.
Andrew has been an invited speaker at more than 90 conferences or meetings, and has served on numerous state and national committees on cancer management.
Andrew has been the chair of both the national Radiation Oncology Genitourinary executive (FROGG) and the Radiation Oncology Executive for the Australian Gastro-Intestinal Trials Group (AGITG). He's also served on the National Board of the Prostate Cancer Foundation of Australia and has been made an Honorary Life member.
Andrew's reputation as one of the country's leading radiation oncologists is built upon his leading role in writing published national guidelines for prostate cancer (both for radiation alone and following a prostatectomy), bladder cancer, anal cancer, and pancreatic cancer.