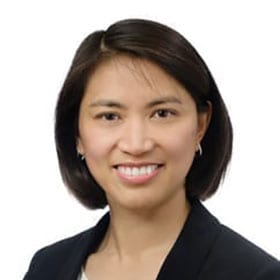 MBBS FRANZCR, Radiation Oncologist
One of the key learnings for me from my time with Camp Quality and Adelaide Survivors Abreast is that ongoing support and care for those affected by cancer is very important.
Languages spoken
English, Vietnamese (conversational)
Clinical interests in breast cancer, urological including prostate cancer, lung malignancies, and palliative care.
Dr Tran graduated from the University of Adelaide in 1998. She undertook her postgraduate training at the Royal Adelaide Hospital and at Adelaide Radiotherapy Centre/Flinders Medical Centre, gaining her specialist qualifications in Radiation Oncology in 2006.
Dr Tran works across all areas but with subspecialty interests in urological malignancies (in particular prostate cancer), breast and lung malignancies. She established the Prostate Low-Dose Rate Brachytherapy Program at Tennyson Centre.
Oncology SA's Research Committee was formed under Dr Tran's leadership, encouraging participation of all craft groups and helping to enable a broad range of both investigator-initiated and external trials.
As Chair of the SA Research Committee for GenesisCare Oncology, Dr Tran aims to help increase access to clinical trials for patients, while aiming to ensure all research undertaken is compliant.
RANZCR
Trans-Tasman Radiation Oncology Group
American Society for Radiation Oncology (ASTRO)
Faculty of Radiation Oncology Genitourinary Group
Australasian Society for Breast Disease