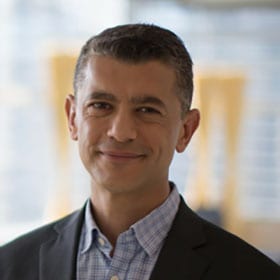 B.Ec. LL.B. MBBS FRANZCR, Radiation Oncologist
Special clinical interest in urological, gastro intestinal and sarcoma.
Dr Mark Sidhom is committed to providing state of the art and high quality cancer care in a compassionate and caring relationship with his patients.
Mark completed a Bachelor of Economics and a Bachelor of Law with first class honours prior to graduating from a Bachelor of Medicine from the University of Sydney in 2001. He went on to specialise in radiation oncology after training in both Queensland and New South Wales, completing his advanced training in 2008 and winning the Kaye Scott Prize for the best performing candidate in the fellowship exams.
Mark has sub-specialised in treating genitourinary malignancies (including prostate, bladder and kidney cancers), as well as soft tissue sarcomas. He currently works as a specialist at Liverpool Hospital Cancer Therapy Centre where he is a member of the prostate cancer multidisciplinary team. He is actively involved in the teaching of medical students and oncology trainees, as well as treating more than 200 prostate cancer patients each year, among other malignancies.
Mark has been extensively involved in research over the last 10 years with multiple publications and presentations both in Australia and internationally, and he is a regular speaker at national and international scientific meetings. His main research interest is in the areas of stereotactic radiotherapy for prostate cancer, and the management of organ motion in post-prostatectomy radiotherapy. Mark is involved in a number of national prostate cancer co-operative groups and research bodies, being an executive member of the Faculty of Radiation Oncology Genitourinary Group since 2010 (FROGG), and is an active recruiter to clinical trials of the Trans-Tasman Radiation Oncology Group (TROG). On weekends Mark is an enthusiastic road cyclist, competing in cycling events around Australia.