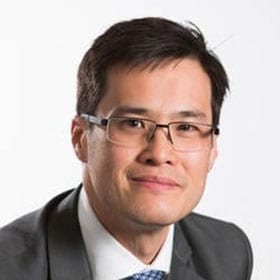 MBBS, BMedSci, FRANZCR, Radiation Oncologist
Special clinical interest in gastrointestinal, breast, prostate, lung and stereotactic radiotherapy.
Dr Marcus Foo, MBBS, BMedSci, FRANZCR. Marcus graduated from the University of Melbourne in 2000 and trained in radiation oncology at the Peter MacCallum Cancer Centre. He then undertook a Clinical and Research Fellowship at the BC Cancer Agency in Vancouver, Canada focusing on gastro-intestinal (GI), breast and genito-urinary oncology where he was principal and co-investigator in research projects in anal cancer, prostate cancer PSA kinetics and a prospective phase II trial of VMAT for multiple brain metastases.

He subsequently returned to the Peter MacCallum Cancer Centre as consultant radiation oncologist in the GI/Sarcoma and SBRT team, prior to joining GenesisCare in 2014, where he consults at Footscray, Frankston and Berwick.
Marcus has subspecialty interests in gastro-intestinal cancers, and has published in international and national peer-reviewed journals. He has strong interests in stereotactic body radiation therapy (SBRT) and image guided radiation therapy (IGRT), and has attended numerous international conferences on SBRT. He has also been integral with building and developing GenesisCare's SBRT program which commenced late 2014.