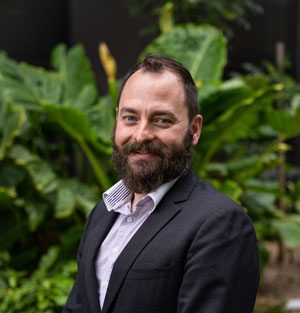 MBChB (Hons) FRACP, Medical Oncologist
Clinical interests in prostate, bladder, kidney, and testicular cancers.
Dr. Krieger graduated with honors from the University of Bristol (UK) before completing Specialist Oncology training at Royal North Shore Hospital Sydney. He returned to London as the Fellow to Dr. Simon Chowdhury at Guys' and St Thomas' Hospital, whilst teaching at Kings College.
Dr. Krieger returned to Sydney as the Director of Clinical Trials for the Riverina Cancer Care Centre before becoming the lead clinician and Principal Investigator for numerous studies in urogenital malignancies at Genesis Care, Sydney. He is a Clinical Lecturer with the University of Sydney, Northern Medical School and a Consultant General Physician and undergraduate trainee supervisor for the Royal College of Physicians at Royal North Shore Hospital, Sydney.
He is an active member of the bladder, testicular, renal and prostate cancer subcommittees for the ANZUP trials group and a member of the EVIQ urogenital committee. Dr. Krieger serves on multiple national and international advisory boards.
Dr Krieger's research interests include urogenital clinical trials.
KEYNOTE-057: Open Label, Multicentre, Phase 2 Study of Pembrolizumab Monotherapy for the Treatment of Non-Muscle Invasive Bladder Cancer Unresponsive to Bacillus Calmette-Guerin (BCG): Arjun VB, Girish SK, Krieger LE, et al. The Lancet Oncology (accepted for publication May 2021)
Non-BRCA DNA Damage Repair Gene Alterations and Response to the PARP Inhibitor Rucaparib in Metastatic Castrate Resistant Prostate Cancer: Analysis from the Phase II TRITON 2 Study: Abida W, Campbell D, Patnaik A, Shapiro JD, Krieger LE, Chowdhury et al; Clin Cancer Res 2020 Jun 1;26(11):2487-2496. Doi: 10.1158/1078-0432.CCR-20-0394
Rucaparib in Men with Metastatic Castration-Resistant Prostate Cancer Harboring a BRCA1 or BRCA 2 Gene Alteration: Abida W, Patnaik A, Shapiro J, Krieger LE, Chowdhury Set al: J Clin Oneal. 2020 Nov 10;38(32):3763-3722. Doi:10.1200/JCO.20.01035
Treatment Selection for First-Line Metastatic Renal Cell Carcinoma in Australia: Impact of new therapy options: Schmidt A, Azad A, Goh J, Harris C, Joshua AM, Weickhardt A, Krieger L: Asia Pac J Clin Oncology. 2019 Nov;15 Supp 10:3-10 DOI: 10.111/acjo.13289
Nonmetastatic, Castration Resistant Prostate Cancer and Survival with Darolutamide: Fizazi K, Shore N, Temmela TL, Smith MR et al. N Eng J Med 2020 Sep 10;383(11):1040-1049. Doi 1056/NEJMoa20001342 (Member of the ARAMIS study investigators)