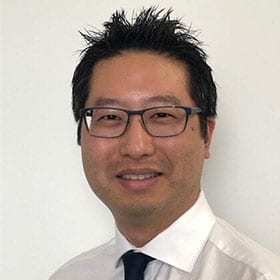 MBBS BSc (Med) MPH FRACP, Medical Oncologist
Languages spoken
English, Korean
Special clinical interest in breast, skin (melanoma) and head and neck cancers.
John completed his Medical Oncology training at Nepean, Westmead, Blacktown and Orange Hospitals. He undertook a further fellowship in melanoma as a clinical trials fellow at Westmead Hospital affiliated with Melanoma Institute Australia. John was awarded Fellow of the Royal Australasian College of Physicians in 2017. John is appointed at Nepean Public Hospital as a Staff Specialist.
John is passionate about clinical trials and currently leads Phase 1 Clinical Trials at Macquarie University. He has extensive experience in phase 1 – 3 clinical trials in all adult solid tumours.
John holds a Master of Public Health from the University of Sydney and is near completion of his PhD at Macquarie University.
John is also passionate about teaching medical students and mentoring junior medical officers and has been a Clinical Lecturer since 2011 at University of Sydney and is also a Senior Clinical Lecturer for Macquarie University MD program.
In his spare time, John enjoys outdoor sports, travelling and spending time with his family.
John's research interests include basic and translational research.
JJ Park, RJ Diefenbach, AM Joshua, RF Kefford, MS Carlino, H Rizos – Oncogenic Signaling in Uveal Melanoma. Pigment Cell and Melanoma Research 2018;1-12
S Parakh*, JJ Park*, S Mendis, R Rai, W Xu, S Lo, M Drummond, C Rowe, A Wong, G McArthur, A Haydon, M Andrews, J Cebon, A Guminski, RF Kefford, GV Long, A Menzies, O Klein# and MS Carlino# – Efficacy of anti-PD-1 therapy in patients with melanoma brain metastases. British Journal of Cancer 2017, 116:1558-1563
Sabanathan, JJ Park, M Marquez, L Francisco, N Byrne, H Gurney – Cure in advanced renal cell cancer: Is it an achievable goal? The Oncologist 2017, 12:1470-1477
JJ Park, AV Boddy, X Liu, D Harris, V Lee, RF Kefford, MS Carlino. – Pharmacokinetics of dabrafenib in a patient with metastatic melanoma undergoing haemodialysis. Pigment Cell Melanoma Research 2016, 30: 68–71