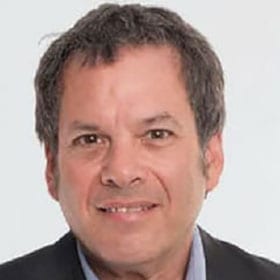 MBBS, FRANZCR, Radiation Oncologist
Whenever cure is not feasible, I endeavour to provide treatment that will control the symptoms of disease & maintain my patients' quality of life
Special clinical interests in head and neck, gastrointestinal, sarcoma and skin malignancies
Jerry attended medical school in New South Wales and went on to complete his radiation oncology training in both Sydney and Perth. He subsequently obtained positions as a fellow in radiation oncology at the British Colombia Cancer Agency in Vancouver, and as a tutor and examiner for the Department of Surgery at the University of British Colombia (Canada). In 1995, he began working as a consultant radiation oncologist at Royal Perth Hospital and Perth Radiation Oncology and, in 2015, added Fiona Stanley Hospital to his practice.
Jerry has several academic articles to his credit on the subject of skin cancers, radiotherapy for cardiac rejection following transplantation, and second primary tumours after definitive radiotherapy for head and neck cancer. He is also an investigator on trials evaluating the use of volumetric modulated arc therapy (VMAT) and intensity modulated radiation therapy (IMRT) in head and neck cancer and is a valuable mentor to medical students at the University of Western Australia.
Jerry's main areas of interest include head and neck, lower gastro-intestinal, sarcoma and skin malignancies.
Royal Australian and New Zealand College of Radiologists (RANZCR)
Australian and New Zealand Head and Neck Cancer Society (ANZHNCS)
American Society for Radiation Oncology (ASTRO)
European Society for Radiotherapy and Oncology (ESTRO)