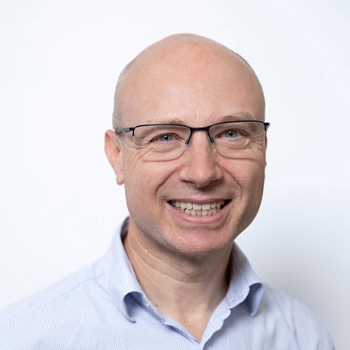 MBBS, FRANZCR, Radiation Oncologist
Special clinical interests in prostate brachytherapy, urological, gastrointestinal, stereotactic radiosurgery (SRS) SABR, haematology, and palliative and clinical mentoring.
Dr James MacKean is based in Brisbane and works at both GenesisCare's Chermside and Wesley centres. James also regularly visits GenesisCare Sunshine Coast and Fraser Coast.
James commenced employment at the Wesley in 2000, after completing registrar training in New South Wales and a Fellowship year at Mt Vernon Hospital, London.
He has a particular interest in all aspects of the management of Prostate cancer.
His other interests are Palliative care, Colorectal and Haematological malignancies. He is a member of the Faculty of Radiation Oncology Genito-urinary Group and a former chair of the Australasian Brachytherapy Group.
Consults at:
Wesley Medical Centre
Chermside
GenesisCare Sunshine Coast
GenesisCare Fraser Coast
Long‐term outcomes of high‐dose‐rate brachytherapy for intermediate‐ and high‐risk prostate cancer with a median follow‐up of 10 years.  John W. Yaxley Kevin V2Lah  Julian P. Yaxley  Robert A. Gardiner  Hema Samaratunga  James MacKean, BJUI,vol120, 2017 , p 56-60