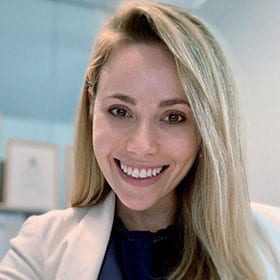 MBBS (Hon) RANZCR, Radiation Oncologist
I have a passion for advocacy and drive to improve cancer care for our patients.
Special clinical interest in breast cancer, upper gastrointestinal cancer, liver cancer, neuroendocrine, palliative and stereotactic radiation therapy
Gina has a keen interest in training and education and is a Conjoint Lecturer at UNSW. She is a national lead for implementing the new Radiation Oncology speciality training program and convened the international RANZCR/ESTRO/CARO Foundations of Leadership course. She is a member of the Australasian Gastro-Intestinal Trials Group ASM committee. She is actively involved in reviewing the EVIQ radiation oncology treatment protocols and sits on the palliative, SABR/SRS, breast and upper gastro-intestinal reference panels.
Kaye Scott Prize 2017 RANZCR FRO Phase 2 examination series 2017
Awarded for the most outstanding performance in the Phase 2 Radiation Oncology examinations. This prize is only awarded where an exceptional standard has been demonstrated as determined by the Phase 2 Examiners and is therefore not given out every examination series.
CE Eddy Prize 2014 FRANZCR Phase 1 examination series 2014
Awarded to the most successful candidate at the 2014 FRANZCR Phase 1 examination series Faculty of Radiation Oncology Education and Training Committee of the RANZCR
Letter of Excellence, Fremantle Hospital 2011
Awarded by Dr David Oldham, Director of Postgraduate Education
UWA MBBS Honours Award 2010
Distinction average in all subjects over six years
Awarded by Prof. Ian Puddey, Dean of the Faculty of Medicine, Dentistry and Health Sciences, UWA
Health Department of WA Prize in Public Health for Medical Research 2009
Research Report on 'Screening Mammography in Women Aged 70-74' conducted in association with Breast Screen Western Australia. Dr Elizabeth Wylie
Central to Gina's clinical practice is an interest in research, having published in peer-reviewed journals and presented her work at both local and international conferences. Gina also advocates strongly for all patients to receive optimal cancer treatment through her work as the GP education lead for Targeting Cancer.
Convener, Foundations of Leadership in Radiation Oncology Course Sydney August 2019 (November 2018- present)
Member, Australasian Gastro-Intestinal Trials Group Annual Scientific Meeting Committee 2019 (October 2018- present)
Member, EVIQ Reference Committee for Head and Neck Treatment Protocols (2017-present)
GP Education Director, Targeting Cancer (2017-present)
Member, Targeting Cancer- Working Advisory Group (July 2014-present)
Multimodal treatment of oligometastatic anal squamous cell carcinoma: an international multi-institutional case series. Hesselberg G, Sclafani S, Rao S, Goldstein D, Haghighi K, Truskett P and Thompson S ; Journal of Surgical Oncology, accepted and awaiting publication Nov 2018
Head and neck glottic larynx squamous cell carcinoma definitive EBRT 2017 ID: 584 v.3 eviQ Cancer Treatments Online, Cancer Institute NSW, reviewed 16 November
Head and neck larynx/hypopharynx squamous cell carcinoma definitive EBRT chemoradiation ID: 1528 v.3 eviQ Cancer Treatments Online, Cancer Institute NSW, reviewed 16 November
RANZCR Particle Therapy Information and Referral Process Document. RANZCR Faculty of Radiation Oncology Particle Therapy Special Interest Group; October 2017, pending committee approval
Are Future Radiation Oncologists Equipped With the Knowledge to Manage Elderly Patients With Cancer? Morris L, Thiruthaneeswaran N, Lehman M, Hesselberg G and Turner S; International Journal of Radiation Oncology, Biology and Physics, Jan 2017
Radiotherapy use in cancer Turner S, Gorayski P, Hesselberg G and Morris L; Australian Doctor April 2015