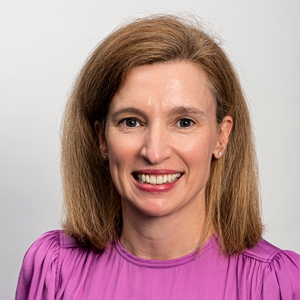 MBBS (hons), FRANZCR, Radiation Oncologist
Cancer management can be complex and I'm a strong believer in the role of the multidisciplinary team working together for best patient outcomes
Expert in
Breast cancer, Benign, Gastrointestinal cancer
Special clinical interests in head and neck, breast, gastrointestinal, palliative, urological, skin malignancies and benign conditions such as Dupuytren's Contracture.
Dr Connell is a graduate of Flinders University of South Australia and completed her Radiation Oncology training at the Royal Adelaide and Alfred Hospitals (Melbourne) in 2004, achieving the college medal in her final exams. She completed a fellowship year in Head and Neck Cancer at the Peter MacCallum Cancer Centre where she published her research into the role of PET/CT in the management of head and neck cancer.
She spent two years treating urological malignancies in Oxford, UK before taking up her position at Adelaide Radiotherapy Centre in 2009 (now known as GenesisCare).
She is actively involved in the education of radiotherapy registrars and attends regular multidisciplinary team meetings where cancer cases are discussed with other specialist colleagues in order to devise an optimal, individualised treatment approach. She is chair of the GenesisCare national Head and Neck Tumour Reference Group is co-chair of the St Andrews Head and Neck Multidisciplinary Meeting.
Based at the Flinders Private and St Andrew's Hospital rooms, she consults both private and public patients, and manages all oncological as well as benign conditions amenable to radiotherapy. She is actively involved in recruiting patients to clinical trials both within Genesis Care and in conjunction with the Flinders Medical Centre Cancer Centre, offering patients access to the most up to date advances in oncological practice. Dr Connell provides radiotherapy for Dupuytren's disease.
Regional consulting locations
Dr Connell consults at Stirling Hospital.
Kaye Scott Prize for Fellowship Exam 2004
Dr Connell is has a clinical interest in optimising quality and consistency of head and neck cancer treatment across the GenesisCare National Network through her role as the chair of the Head and Neck Tumour Reference Group.
South Australian Head and Neck Society
Clinical impact of, and prognostic stratification by, F-18 FDG PET/CT in head and neck mucosal squamous cell carcinoma. Connell CA, Corry J, Milner AD, Hogg A, Hicks RJ, Rischin D, Peters LJ.Head Neck. 2007 Nov;29(11):986-95. doi: 10.1002/hed.20629.PMID: 17563906 Clinical Trial Cancers (Basel)
A Retrospective Dosimetric Study of Radiotherapy Patients with Left-Sided Breast Cancer; Patient Selection Criteria for Deep Inspiration Breath Hold Technique Mikaela Dell'Oro 1, Eileen Giles 2, Amy Sharkey 3, Martin Borg 4, Caroline Connell 5, Eva Bezak 6 7Cancers2019 Feb 22;11(2):259.
Quantitative measures of salivary changes in head and neck cancer survivors post definitive chemotherapy and radiotherapy. Xu Ke, Tadjoudine  N, Fitzgerald M, Connell C, Koczwara B, Sukumaran S. Poster presentation ANZHNS annual scientific meeting 2019.
Patters of Care and Clinical Outcomes for Gastric and gastro oesophageal cancers in South Australian Population – A state-wide Audit. Abbas N, Karapetis C, Barnes M, Bright T, Shenfine J, Bull J, Thompson S, Singhal N, Rodgers N, Gowda R, Connell C. Poster presentation, ESMO World congress on Gastrointestinal Cancer 2018.
Patterns of Care and Outcomes for Gastric and Gastro-Oesophageal Junction Cancer in an Australian Population. Abbas M, Price T, Karapetis C, Thompson S, Connell C, Watsosn D, Barnes D,  Bull J, Singhal N, Roy A. Accepted for publication ANZ Journal of Surgery. September 2021.