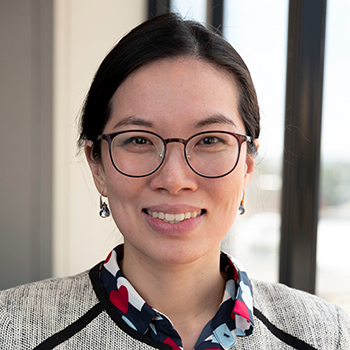 Dr Angelina Tjokrowidjaja
MBBS (Hons), MMed (Clin Epi), MRCP (UK), FRACP, Medical Oncologist
I strive to deliver the best possible patient care, and support patients with kindness and compassion. I am passionate about research, and my hope is to improve clinical outcomes wherever possible.
Clinical interest include gynaecologic (ovarian, uterine, cervical), upper gastrointestinal (pancreatic, gastric, oesophageal, biliary) and colorectal cancers
Dr Angelina Tjokrowidjaja is a consultant Medical Oncologist with clinical appointments at St George Hospital, Sutherland Hospital, St George Private Hospital and Genesis Care Waratah Private. She obtained her Bachelor of Medicine with Honours from the University of New South Wales in 2011. She undertook internal medicine training at Royal Prince Alfred Hospital, including Chris O'Brien Lifehouse, before completing general Medical Oncology training at St George Hospital, Sutherland Hospital and Prince of Wales Hospital. 
Dr Tjokrowidjaja treats a broad range of cancers, with special clinical interests in gastrointestinal (colorectal, pancreas, oesophagus, stomach, biliary tract) and gynaecologic (ovarian, endometrial, cervical) cancers. She is part of the multidisciplinary team meetings for gastrointestinal and gynaecological cancers in St George Hospital, and also sits on the Cancer Institute NSW eviQ committee for Gastrointestinal and Gynaecologic cancer treatment protocols. 
Dr Tjokrowidjaja is passionate about research and endeavours to help improve outcomes for people living with cancer. She has completed a PhD on biomarkers to individualise treatment in advanced cancers with specific therapies. She was also recognised with the University of Sydney Postgraduate Research Scholarship in the Selection of Targeted Biological Therapies for Advanced Cancers. Her research has been published widely in peer-reviewed journals and presented both locally and internationally. She currently sits on the Cervical Cancer working tumour group within the Australia New Zealand Gynaecological Oncology Group as well as the project team for the Genomic Cancer Clinic Trials Initiative. Dr Tjokrowidjaja also enjoys supervising and mentoring Advanced Medical Oncology Trainees undertaking their training at St George Hospital.
American Society of Clinical Oncology (ASCO)
European Society of Medical Oncology (ESMO)
Royal Australasian College of Physicians (RACP)
Medical Oncology Group of Australia (MOGA)
Australia New Zealand Gynaecological Oncology Group (ANZGOG)
Australasian Gastro-Intestinal Trials Group (AGITG)
Research interests include biomarkers, gastrointestinal and gynaecologic cancers.
Tjokrowidjaja, A., Lee C.K., et al. The prognostic value of pre-treatment and on-treatment LDH in patients with advanced non-small cell lung cancer treated with atezolizumab. Cancer. 2022 Apr 15; 128 (8): 1574-1583
Tjokrowidjaja, A., Lee, C.K., Friedlander, M., et al. Prognostic nomogram for progression-free survival in patients with BRCA mutations and platinum-sensitive recurrent ovarian cancer on maintenance olaparib therapy following response to chemotherapy. European Journal of Cancer. 2021 Sep; 154: 190-200

Lee, CK., Friedlander, M., Tjokrowidjaja, A., et al. Molecular and clinical predictors of improvement in progression-free survival with maintenance PARP inhibitor therapy following response to chemotherapy in women with platinum-sensitive, recurrent ovarian cancer: A meta-analysis. Cancer. 2021 Jul 15; 127(14): 2432-2441

Tjokrowidjaja, A., Lee, C.K., Friedlander, M., et al. Concordance between CA-125 and RECIST progression in patients with germline BRCA-mutated platinum-sensitive relapsed ovarian cancer treated in the SOLO2 trial with olaparib as maintenance therapy after response to chemotherapy. European Journal of Cancer, 2020, 139, 59-67

Siu, H.W.D., Abdelmogod, A, Tjokrowidjaja, A., et al. Clinical and molecular profile of young adults with early onset colorectal cancer: experience from four Australian tertiary centres. Asia Pac J Clin Oncol. 2022 Jan 30. doi: 10.1111/ajco.13745

Tjokrowidjaja A., Hovey, E., & Lewis, C. Unravelling chemotherapy dosing – dose adjustment, 'under-dosing' and off-protocol use. Medical Journal of Australia, 2019, 210(2): 65-66