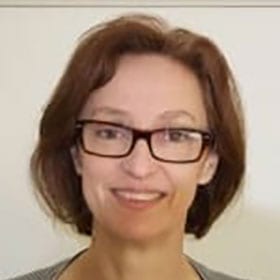 MBBS (Hons) FRACP PhD, Endocrinologist
Clinical interests in thyroid disease of all types, endocrinology, plus head and neck cancer.
Diana Learoyd is an Endocrinologist and an Associate Professor at the Sydney Medical School (University of Sydney). She trained at Royal North Shore RNSH and spent a year at King's College Hospital Denmark Hill London, researching thyroid autoimmunity. She completed her PhD in the Kolling Institute of the University of Sydney in 1999, in the genetics of thyroid cancer. She became a fulltime clinical academic consultant at RNSH in 1998 and has been the Director of Clinical Training at RNSH and the Co-Director of Physician Training. Her current university roles include stage 3 (final stage) lead, long case lead and MD project Co-ordinator for the Sydney Medical School at RNSH. Diana set up a thyroid cancer medical database at RNSH with a NSW Cancer Institute grant, and her clinical research interests include clinical trials at RNSH, for both DTC and MTC patients.