Elekta Unity MR-Linac
Ultimate precision is here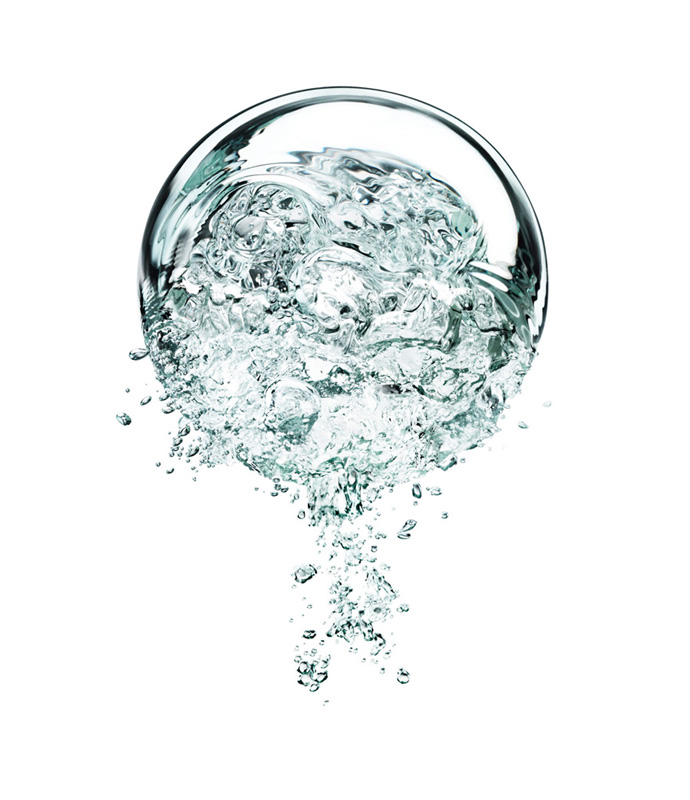 A new paradigm in radiation oncology
Magnetic resonance image-guided radiation therapy, or MRIgRT, is the most exciting new development in advanced radiation therapy for years. MRIgRT combines two technologies, a state-of-the-art 1.5T MRI scanner and a best-in-class 7 MV linear accelerator, driven by breakthrough real-time adaptive radiation therapy software.
Elekta Unity provides breakthrough MR-Linac technology placing GenesisCare at the forefront of patient-centric cancer care. High field diagnostic-quality MRI is an option that provides unparalleled soft tissue contrast and real-time visualisation to enable truly personalised radiation therapy, for every patient, every time.
Elekta Unity MR-Linac allows our radiation oncologists to adapt the radiation therapy every day as well as real-time target monitoring. This gives our team the visual confidence to reduce treatment margins, minimising the risk to healthy tissue, and expanding treatment options to those complex hard-to-treat cancers previously not possible.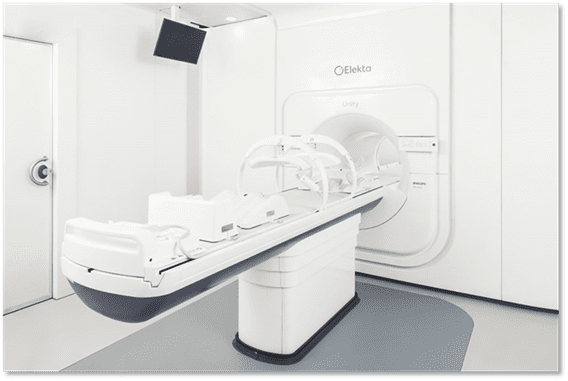 Radiation therapy is an important part of a cancer patient's journey. Every patient is unique with unique treatment needs. Being able to adapt the treatment based on the needs of the patient is essential to achieving the best possible outcomes. MRIgRT is transforming the conventional radiation therapy workflow to a SCAN-PLAN-TREAT approach.
MRI scan detects day-to-day changes in patient anatomy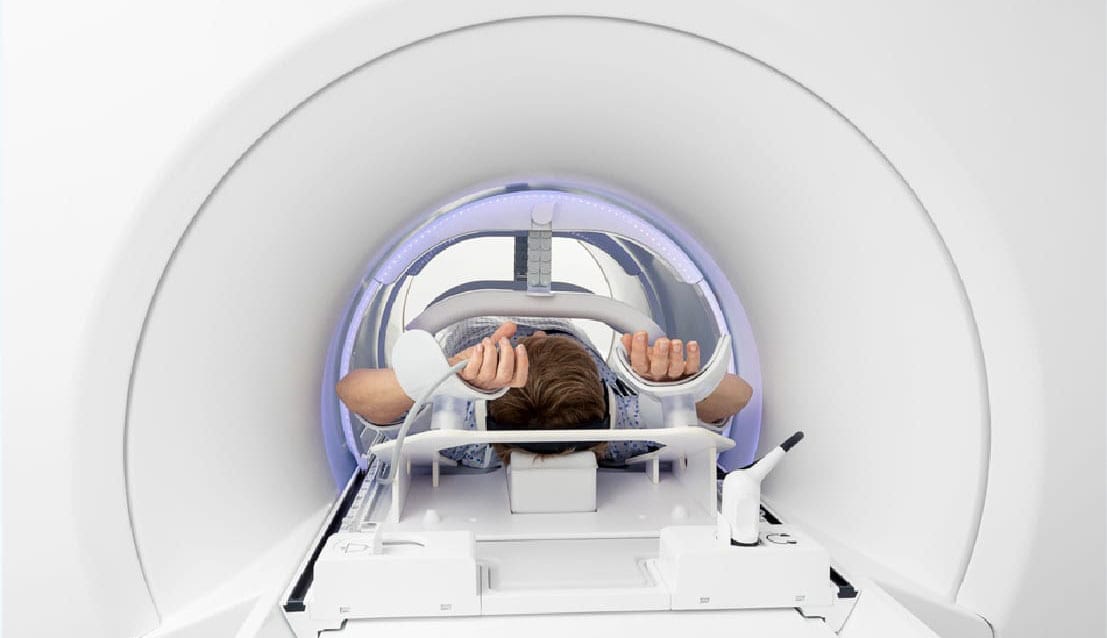 Fast daily adaptive capabilities help us to re-optimise the treatment plan and replan to account for intrafraction changes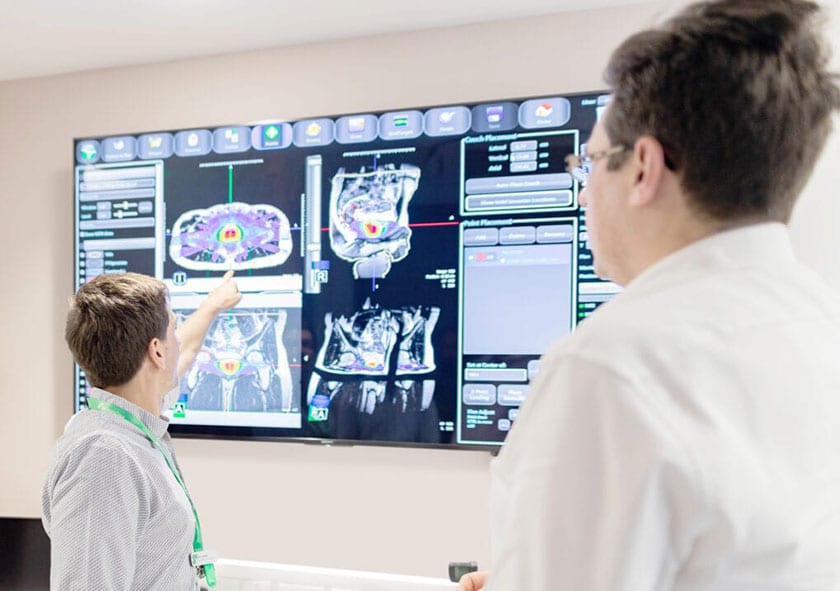 The radiation is delivered with continuous target visualisation throughout treatment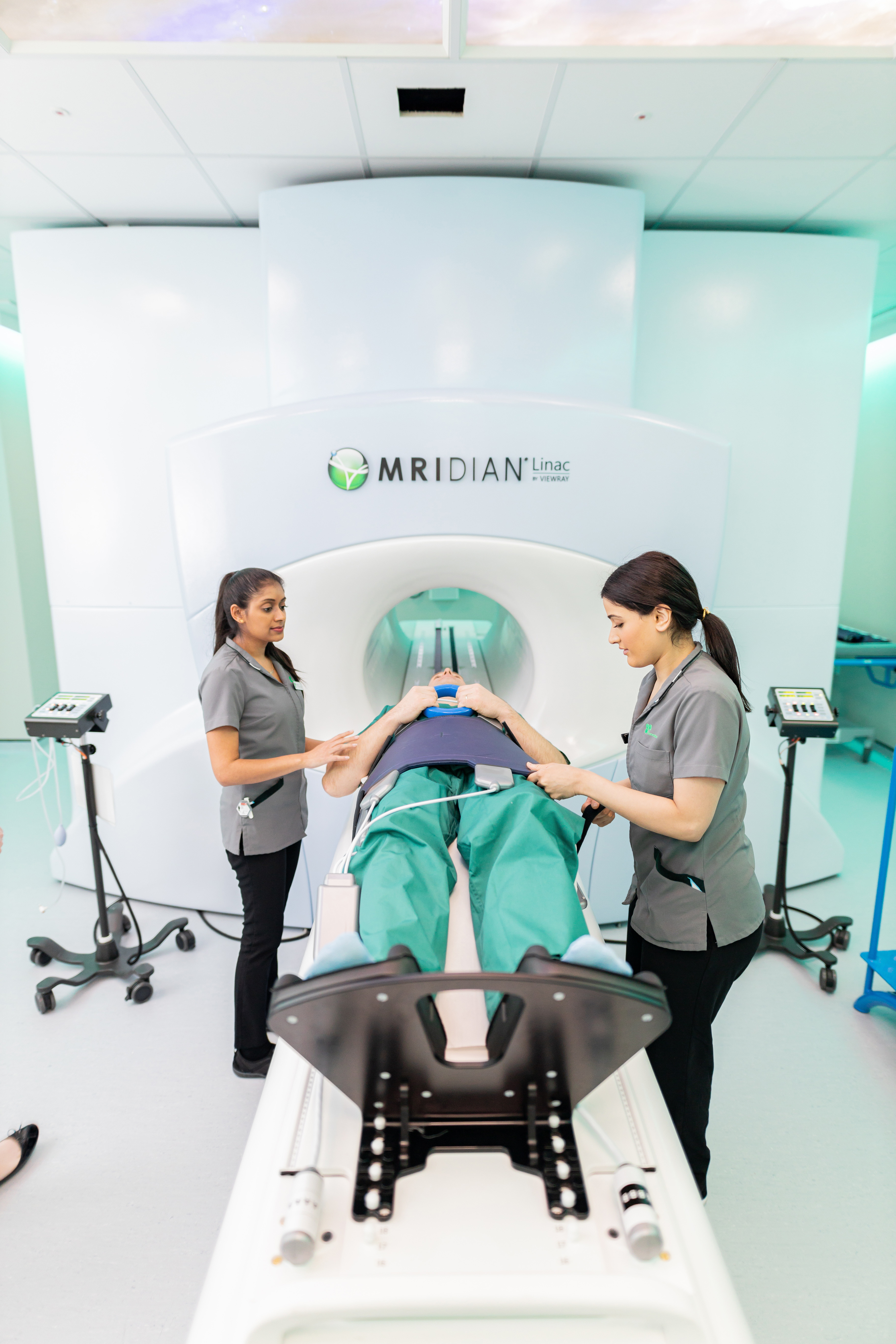 Scan
Isotropic 3D visualisation in five different ways with sub-millimetre resolution.
By visualising anatomy with the Unity system's five different tissue contrasts, enables us to see daily tumour changes in:

Plan
Daily adaptive planning for online dose reshaping.
Fast adaptive planning workflows allow us to respond to day-to-day changes in the patient.
Adapt to shape: a simple adaptive solution using fast rigid registration
Adapt to shape: a comprehensive plan re-optimisation solution using deformable registration.
Make fast on-the-spot clinical decisions based on the system's predictive insights

Treat with precision
Real-time target visualisation
The ability to see the tumour in three planes while we treat with stereotactic precision.
Elekta Unity enables us you to clearly see and monitor anatomical motion in real-time during treatment

Gain visual confidence to reduce margins and expand treatment options
Assess the treatment response of tumours with functional imaging capabilities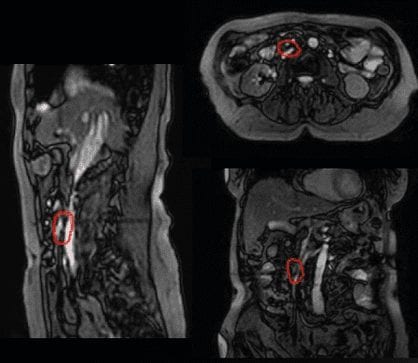 State-of-the-art technology
Unity delivers on all fronts using combined state-of-the-art technologies with ergonomic design to give unparalleled advantages and enabling precise, personalised treatments.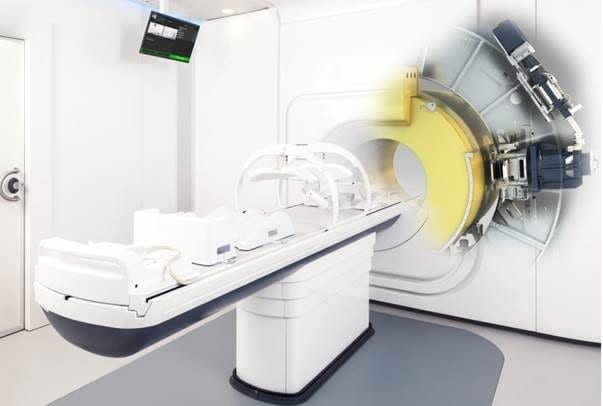 Transforming radiation therapy to improve patient outcomes
The MR-Linac gives us the potential to transform our service and we now have the opportunity to develop new clinical paradigms to improve outcomes, even for those hard to treat cancers.
Delivering clinical excellence
We are committed to an environment of clinical excellence, objectivity and accountability. Our Processes are adapted from international best practice and our team has undertaken training with centres including Tubingen University Hospital, UMC Utrecht Cancer Centre as well as Elekta Training Centre, UK.
The introduction of the Unity has been overseen by a dedicated clinical and research team. The groups are comprised of clinicians, radiation therapist and physicists who have undergone extensive Unity training and have a vast cumulative experience of delivering highly technical radiation therapy.
The group also oversees research activity, developing joint protocols with our research partners. GenesisCare will treat more patients with MRIgRT than any other institute globally and will therefore be at the vanguard of translating research into everyday precision radiation medicine
The MR-Linac advisory team
Multidisciplinary teamworking is at the heart of excellent patient care in cancer management. To facilitate this in an independent setting, we have established an MR Linac advisory team which enables peer-to-peer collaboration for both rural and regional clinicians. This forum allows clinicians to submit patient cases for review and opinion for MR Linac treatment. A fortnightly meeting via video conferencing will be held to discuss patient cases.
The advisory team enhances clinical processes, using real-time data  tracking and video to enable the clinical team and wider clinical teams to discuss patient cases while protecting the flow of sensitive data.
The evidence base for stereotactic body radiation therapy (SBRT) is growing and there is currently a range of clinical scenarios into which it can be integrated. At GenesisCare, we offer SBRT in the following situations:
Localised prostate cancer, where hypofractionated treatment offers an alternative to conventional therapy
Tumours that are difficult or impossible to see with conventional CT imaging
Selected cases of oligometastatic and oligo-progressive cancers
Early stage lung cancer
Hepatobiliary cancer, including primary liver cancers and inoperable/recurrent pancreatic cancer
Pelvic reirradiation
Partial breast
All referrals will be assessed for a possible benefit of treatment using MRIgRT. For example:
Tumours where there is significant movement, e.g. in the upper abdomen and lung
Tumours that are in close proximity to organs at risk (OARs), e.g. in the prostate, upper abdomen and central lung
MR-Linac technology supported by a growing body of safety and efficacy data
Through our collaborations, we will build on the body of evidence for MR Linac Radiation therapy. Our strategy for the introduction of MRIgRT is to align with international best practice based on evidence-based protocols. There is an increasing international evidence base for MR-Linac.
The safety and efficacy of the Elekta MR-linac system in a clinical setting have been demonstrated and quantified. The results, published in *Physics in Medicine & Biology, further validate an extensive clinical research plan as developed by the Elekta MR-linac Consortium.
Available for interstate, rural and regional patients receiving stereotactic treatment.
We will cover accommodation for up to ten nights close to St Vincent's treatment centre, for both the initial consultation and subsequent treatment trips.
The patient services team will coordinate all patient pickups and return journeys to and from the provided accommodation to our treatment centre each day.
Patients can be referred to our MR- Linac service from anywhere in Australia.
Any patient referred for MR-Linac treatment will be returned to the care of the referrer once treatment has been completed.
GenesisCare
St Vincent's Clinic
Level A, 438 Victoria Street
Darlinghurst NSW 2010
Email: ace@genesiscare.com
GenesisCare
Murdoch
100 Murdoch Drive,
Murdoch WA 6150

* B W Raaymakers1,3, I M Jürgenliemk-Schulz1, G H Bol1, M Glitzner1, A N T J Kotte1, B van Asselen1, J C J de Boer1, J J Bluemink1, S L Hackett1, M A Moerland1
Published 14 November 2017 • © 2017 Institute of Physics and Engineering in 
Medicine
Physics in Medicine & Biology, Volume 62, Number 23
Images and content courtesy of Elekta