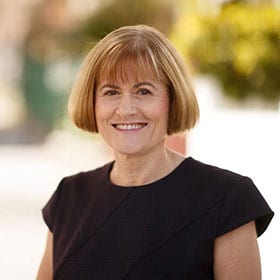 MBBS, FRACP, FRANZCR, MD, Radiation Oncologist
I thrive on the complexity and high degree of difficulty required to successfully treat patients with head and neck cancer.
Special clinical interests in head and neck cancers and complex skin cancers.
June initially trained as a Medical Oncologist and then furthered her studies to include Radiation Oncology, specialising in head and neck cancers. She joined GenesisCare in July 2016, after 22 years at Peter Mac, the last 15 years as Chair of that Head and Neck Service.
June is a founding member and past president of the ANZ H&NC and IAOO societies, previous executive member of the TROG Cancer Research Group, previous Chair of the TROG ANROTAT NPC committee and the Department of Health's Optimal Care Pathways for H&N cancer patients, previous Chair HNC group in WCMICS, and current member of the UICC TNM H&N committee. She is on the editorial boards of JCO, IJROBP, Head and Neck and Oral Oncology journals. She has been Editor of the H&N section of the IJROBP.
June has a commitment to clinical research with more than 130 publications and 7 book chapters.
June was recognised for her significant contributions to the industry by receiving the TROG Outstanding Contribution Award for 2021. The award recognises researchers who have made significant contributions in the field of radiation oncology and/or in the development of emerging technology/techniques that have helped to advance oncology treatments; and have demonstrated service to TROG.

Clinical research is the way we improve future outcomes for patients – from better treatments to better patient support during and after cancer treatment.
Royal Australian College Physicians
Royal Australian New Zealand College Radiologists
American Society Therapeutic Radiology and Oncology (ASTRO)
ANZ Head& Neck Society (ANZHNS) – President 2008
Head & Neck cancer committee, Victorian Cooperative Oncology Group (VCOG) – Chair 2004-2008.
Executive Committee member Trans- Tasman Radiation Oncology Group TROG)
Chair, TROG H&N committee
Founding Member of the International Academy of Oral Oncology (IAOO)
International Atomic Energy Agency (IAEA) NPC subcommittee member
Thomson DJ, Palma D, Guckenberger M, Balermpas P, Beitler JJ, Blanchard P, Brizel D, Budach W, Caudell J, Corry J, et al. Practice recommendations for risk-adapted head and neck cancer radiotherapy during the COVID-19 pandemic: an ASTRO-ESTRO consensus statement.  Int J Radiat Oncol Biol Phys. 2020 Apr 14. pii: S0360-3016(20)31034-8. doi: 10.1016/j.ijrobp.2020.04.016. [Epub ahead of print]
Lee AW, Ng WT, Pan JJ, Chiang CL, Corry J, Wee JT. International Guideline on Dose Prioritization and Acceptance Criteria in Radiotherapy Planning Of Nasopharyngeal Carcinoma. Int J Radiat Oncol Biol Phys 2019 Nov 1;105(3):567-580. doi: 10.1016/j.ijrobp.2019.06.2540. Epub 2019 Jul 2.
Corry J. Collaborative action will generate better outcomes. Lancet Oncol. 2018 Mar;19(3):278-280. JIF: 36.418.
Corry J, Peters LJ, Rischin D. The Impact of Center Size and Experience on Outcomes in Head and Neck Cancer. J Clin Oncol 2015; 33:138-140. JIF: 26.303.
Corry J, Peters L, Kleid S, Rischin D. Larynx preservation for patients with locally advanced laryngeal cancer. J Clin Oncol. 2013 Mar 1;31(7):840-4. JIF: 26.303.