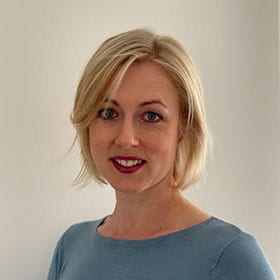 BSc (Med) MB BS (Hons I) FRACP, Medical Oncologist
It is a privilege to meet and help people through a difficult journey and strive with them for the best possible outcomes
Clinical interests in breast, lung, and gastrointestinal (GI) cancers.
Tristan has experience working as a research fellow and investigator at established local and international institutes, including Royal North Shore Hospital and GenesisCare, North Shore, plus Princess Margaret Cancer Centre in Toronto, Canada. She was recognised with a Clinical Research Fellowship in 2017 at the University of Toronto (Princess Margaret Cancer Centre). Tristan's approach to cancer care is to aim to offer innovation and compassion when considering the needs of her patients.
Tristan's approach to patient care is both empathic and holistic, using her consults to not only make considered clinical decisions, but also to understand, communicate, and connect with her patients. In unique and often complex medical problems, Tristan regularly turns to seek the opinion of other recognised peers in oncology through tumour stream meetings - a testament to her dedication to delivering her patients the most suitable and personalised care.
American Society Clinical Oncology
Clinical Oncology Society of Australia
International Association for the Study of Lung Cancer
Royal Australian College of Physicians
Australian and New Zealand Breast Cancer Trials Group
Barnes TA, Albaba A et al; Acceptability of Routine Evaluations Using Patient-Reported Outcomes of Common Terminology Criteria for Adverse Events and Other Patient-Reported Symptom Outcome Tools in Cancer Outpatients: Princess Margaret Cancer Centre Experience; The Oncologist Aug 2019 2019;24:1–9
Goldvaser H,Barnes TA, Cescon DW, Ocaña A, Ribnikar D, Amir E; Toxicity of Extended Adjuvant Therapy with Aromatase Inhibitors in Postmenopausal Breast Cancer Patients: A Systematic Review and Meta-analysis; JNCI August 2017; http://dx.doi.org/10.1016/j.ctrv.2017.08.008
Barnes TA, Leighl NB. Expanding therapies for crizotinib refractory ALK-rearranged non-small cell lung cancer. Transl Cancer Res 2016;5 (Suppl 3):S458-S461.
Barnes TA, Amir E. Minireivew - Hype or Hope: The role of infiltrating immune cells in Cancer; British Journal of Cancer 2017 Jul 13; doi: 10.1038/bjc.2017.220
Barnes TA, Amir E, Templeton AJ, Gomez Garcia S, Navarro B, Seruga B, Ocana A. Efficacy, Safety, Tolerability and Price of Newly Approved Drugs in Solid Tumors; Cancer Treatment Reviews 2017 Apr 9;56:1-7 DOI: 10.1016/j.ctrv.2017.03.011