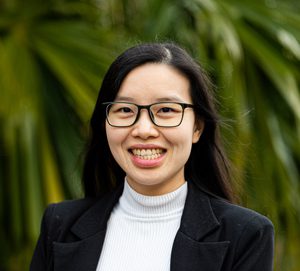 MBBS, FRANZCR, Radiation Oncologist
Many cancers can be successfully managed with the state-of-the-art facilities and expertise available in modern regional clinics.
Languages spoken
English, Mandarin
Expert in
Breast cancer, Prostate cancer
Interested in
Breast, Prostate and Skin cancers, Oligometastatic disease and Palliative
Special clinical interest in breast, prostate and skin cancers, oligometastatic disease and palliative.
Tracy trained in Radiation Oncology (RANZCR) at the National University Cancer Institute of Singapore (NCIS) and spent time as a Senior Registrar Fellow at Royal North Shore Hospital under the auspices of the NCIS Academic Medicine Development Award.
Tracy is passionate about excellence in Radiation Oncology education. During her time as a trainee, she served as chief resident at her primary training site from 2013 to 2014, and as the Singapore regional representative to the RANZCR ROTC 2013 to 2015. She also co-founded an early iteration of the Singapore National Radiation Oncology combined teaching program.
Since receiving FRANZCR Fellowship in 2018, Tracy has served as a Visiting Associate Consultant at NCIS Radiation Oncology Department. Tracy has also had the privilege to be involved in the upcoming generation of Radiation Therapists as part of the Associate Faculty to the Singapore Institute of Technology's Radiation Therapy Bachelor of Science Programme.
From 2018 to 2021, Tracy worked with the Ministry of Health in Singapore (MOH) on areas including national clinical quality in public healthcare institutions being involved in patient safety and quality improvement projects, as well as clinical outcomes and benchmarking, and promoting the introduction of value-based medicine. Her work with MOH has also involved her closely with Primary Care through her involvement in the preparation of customized resources providing clinical care guidance on topics of interest for local General Practitioners.
In mid-2021, Tracy moved to Queensland for family reasons to pursue a full-time clinical career in Hervey Bay. She practices as a general radiation oncologist with a special interest in treatment for patients with breast cancer, prostate cancer and oligometastatic disease.
Tracy believes that key to achieving excellent outcomes for patients includes frequent and proactive communication with the patient and every member of the care team – General Practitioners, Specialist Surgeons and Medical Oncologists.
NCIS Academic Medicine Development Award 2014
Metronomic chemotherapy with or without aromatase inhibitors in pre-treated patients with metastatic breast cancer. Iain B Tan et al. (2nd author). Submitted for 31st Annual San Antonio Breast Cancer Symposium. June 2008.
A Cross-Sectional Study Examining How Patients in an Urban Practice Would Choose Between Regimen Options in Adjuvant Breast Radiotherapy. Jia-Xin Tracy Wang, Koh Wee Yao, Choo Bok Ai, Arul Earnest, Jeremy Tey Chee Seong, and Keith Lim Hsiu Chin. Canc Therapy & Oncol Int J. Volume 4 Issue 2 - March 2017. DOI: 10.19080/CTOIJ.2017.04.555632