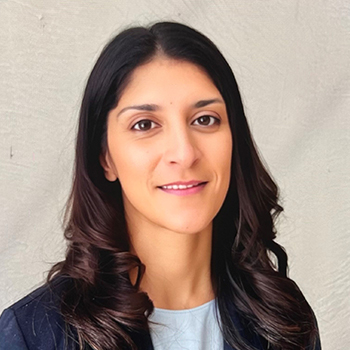 MBCHB hons, MRCP, FRCR, FRANZCR, Radiation Oncologist
Languages spoken
English, Urdu, Punjabi
Clinical interest in Lung, head and neck, skin, breast, prostate, gastrointestinal (GI), and oligometastatic tumours.
Dr van den Blink is a UK trained doctor who received her medical degree from the University of Liverpool in 2003. She completed physician training and specialist training in Clinical Oncology at The Christie Hospital, Manchester, UK and Lancashire Teaching hospital, Preston, UK. She was recognised in 2012 with the Best Young Scientist Poster Award, at ESTRO 31, in Barcelona. Further, Dr van den Blink  developed a clinical interest in lung cancer and alsostereotactic radiation therapy technology through her fellowship and ongoing affiliation with the Princess Margaret Cancer Centre, Toronto, Canada in 2013 to 2015. As a Consultant Clinical Oncologist, she has experience in managing and head and neck cancers and patients with oligometastatic disease.
Dr van den Blink relocated to Australia in 2020, undertaking fellowships at Sir Charles Gairdner Hospital (SCGH) in Perth and Princess Alexandra Hospital, Brisbane and was awarded her fellowship of the Royal Australian and New Zealand College of Radiologists (RANZCR) in 2022.
Dr van den Blink is a trained educator and supervisor involved in clinical and lecture-based teaching of training registrars, medical students and junior doctors. She strives to offer high-quality, patient-centred care, aiming to deliver the best possible clinical outcomes.
Stereotactic radiotherapy in combination with immunotherapy and biological agents
Reducing treatment related toxicities
Member of ESTRO, ASTRO, TROG, ANZHNCS and UK SABR Consortium.
Van den Blink QU, Garcez K, Henson CC, Davidson SE, Higham CE. Pharmacological interventions for the prevention of insufficiency fractures and avascular necrosis associated with pelvic radiotherapy in adults. Cochrane Database of Systematic Reviews 2018, Issue 4. Art. No.: CD010604.
Nutting CM, Morden JP, Beasley M, Bhide S, Cook A, De Winton E, Emson M, Evans M, Fresco L, Gollins S, Gujral D, Harrington K, Joseph M, Lemon C, Luxon L, van den Blink Q, Mendes R, Miah A, Newbold K, Prestwich R, Robinson M, Sanghera P, Simpson J, Sivaramalingam M, Srihari NN, Sydenham M, Wells E, Witts S, Hall E Results of a Multicentre Randomised Controlled Trial of Cochlear-Sparing Intensity-Modulated Radiotherapy Versus Conventional Radiotherapy in Patients With Parotid Cancer Eur J Cancer. 2018 Nov; 103:249-25
Q. Mehmood, A. Sun, N. Becker, J. Higgins, A. Marshall, L. Le, D. Vines, A. Bezjak, JP Bissonnette. Predicting radiation esophagitis using 18F-FDG PET during chemo-radiotherapy for locally advanced non-small cell lung cancer. J Thorac Oncol. 2016 Feb; 11(2): 213-21.
Q. Mehmood, M. Beardwood, R. Swindell, S. Greenhalgh, T. Wareham, L Barraclough, J. Livesey, S. Davidson Insufficiency Fractures in Patients Treated with Pelvic Radiotherapy and Chemotherapy for Uterine and Cervical Cancer. Euro Journal of Cancer Care 2014. Jan; 23 (1): 43-50
Q. Mehmood, S. Shaktawat, O. Parikh A Novel Case of Rhabdomyosarcoma presenting with Myasthenia Gravis. Journal Clinical Oncology, Aug 2011 Vol 29: 22 p653-654