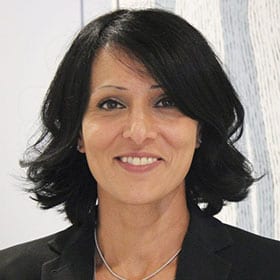 BSc, MBBS, FRANZCR, Radiation Oncologist
Special clinical interest in head & neck cancer, prostate cancer and genitourinary cancers.
Dr Azzi completed her accredited training in 2013 as a radiation oncologist and was awarded the Fellowship of the Royal Australian and New Zealand College of Radiologist (Faculty of Radiation Oncology). She joined the Crown Princess Mary Cancer Centre at Westmead Hospital as a Clinical Head & Neck Fellow. In 2014 Dr Azzi was involved in a number of research projects within the department at the Translational Cancer Research Fellow (TCRC) under the supervision of Professor Veness and Dr Perera. In 2016 Dr Azzi was appointed as the Director of Training for the Central Coast Cancer Centre, Gosford where she was the coordinator for medical students' rotation in oncology. She was also a member of the Education Portfolio Dr Azzi went on to be based at the Crown Princess Mary Cancer Centre, Westmead/ Nepean Cancer Centre in 2017, where she was the radiation oncologist staff specialist. 

Awarded the translational cancer research fellowship in 2014 where Dr Azzi conducted a retrospective study to assess anatomical and dosimetric change in organs at risk during a course of radiation therapy for HN cancer patients. Also assessed the accuracy of manual contouring of structures compared with two commercially available deformable image registration programmes. The results of both of these studies were recently presented at the BiGART conference in Denmark (poster discussion) and accepted for publication in Acta Oncologica journal. Poster presentation at the ASM meeting in Adelaide, 2015
A prospective study is currently accruing Head & Neck patients to assess these above changes and correlate these findings with clinical outcomes, in particular xerostomia, trismus and dysphagia. As part of this study, will also assess the accuracy of dose calculation using cone beam CT scans. In the process of collaborating with the DAHANCA group in Denmark to work together on this project.
Developing a Head & Neck contouring atlas to improve the workflow within the department.
Collaborative Implementation of Stereotactic Ablative Body Radiotherapy - A model for the safe implementation of complex radiotherapy techniques in Australia E.Hau ,F. Hegi-Johnson, J. Barber, S. Best, L.H. Browne, Y. Chin , P. Dwyer , P. H.Graham, J O'Hare, D. Lu, M.Rains, C. Ragusa, L. Fossel, K. Small, K. Unicomb, K. West, S. White, A.Last, J.Ludbrook, M Najim, N Ahern N, K. Van Tilburg, S.K. Vinod, R. Yeghiaian-Alvandi
Comparing the outcomes of stereotactic ablative radiotherapy (SABR) and long-course approaches to thoracic malignancy: A Systematic Review and Meta-analysis
Fiona Hegi-Johnson, Mario D'Souza; Maria Najim, FRANZCR; Dirk De Ruysscher, Phd Clinical Lung Cancer
Early stage squamous cell carcinoma of the lip: The Australian experience and the benefits of radiotherapy in improving outcome in resected high-risk patients. Najim M, Cross S, Gebski V, Palme C, Morgan G, Veness M.Head Neck 2013; 35: 1426-1430.
Volumetric and dosimetric changes to salivary glands during radiotherapy for head and neck cancer. Najim M, Perera L, Bendall L, Sykes JR, Gebski V, Veness M. Acta Oncologica 2015
Performance evaluation of head and neck contour adaptation with cone beam CT using two commercial software systems Louise SH Bendall, Maria Najim, Rachel Stensmyr, Emily Flower, Shan Yau, David I Thwaites, Jonathan R Sykes. Acta Oncologica 2015