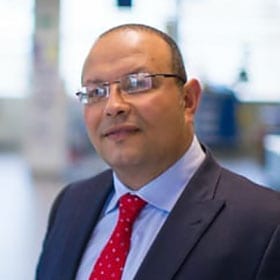 MBBS (Hons), M.Sc., PhD, FRACP, Medical Oncologist
Languages spoken
English, Arabic & French
Clinical interest in lung cancer, head and neck cancers, skin cancers and colorectal cancers
Medical Oncologist and a Fellow of the Royal Australian College of Physicians
Doctor Hussein Soudy is a Medical Oncologist and a Fellow of the Royal Australian College of Physicians. Dr. Soudy completed his training as a Medical Oncology Specialist in 2004. He trained in general oncology, yet can treat any solid tumour type, and his clinical interests focus on the treatment of head and neck cancers, lung cancer, skin cancer, and colorectal cancer. In addition to his work at GenesisCare in Hurstville, Dr Soudy works in the public sector through St. George and Sutherland Hospitals as a senior staff specialist.
As well as to his clinical interests, he is heavily involved in education as a senior lecturer at UNSW, where he teaches undergraduate medical students and participates in the oncology teaching program at St. George and Sutherland Clinical School. Furthermore, Dr Soudy has an interest in mentoring and teaching junior doctors, plus also in GP education on topics such as advances in cancer management. Dr Soudy has passion in research and has many international publications.
Dr Soudy is a member of a number of professional societies including the Clinical Oncology Society of Australia, American Society of Clinical Oncology, and he is a certified member of the European Society of Medical Oncology. It is also worth noting that Dr Soudy is multilingual where he speaks English, Arabic and French.