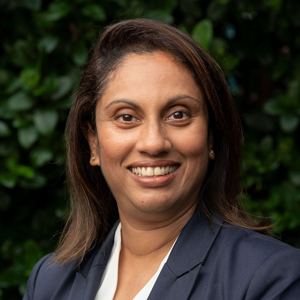 BSc (Hons), MBBS, FRANZCR, PhD, Radiation Oncologist
Clinical interests in head and neck, rectal, and skin cancers plus lymphoma, and health services research.
Associate Professor Puma Sundaresan completed her medical training at Flinders University in Adelaide, specialist training in radiation oncology at Westmead and Nepean Hospitals in Sydney and Postgraduate Fellowship in intracranial stereotactic radiosurgery at Sydney Radiosurgery, Royal Prince Alfred (RPA) Hospital, Sydney in 2009. In 2011 Puma was recognised with the Inaugural Dean's Fellow in Radiation Oncology at the University of Sydney, plus European Organisation for Research and Treatment of Cancer QOL Fellowship, and Prostate Cancer Foundation Young Investigator Grant. Further, in 2012 Puma was granted the RANZCR Withers & Peters Fellowship Prize, and NHMRC PhD scholarship. She was awarded a PhD (University of Sydney) in 2016.
Puma worked as the Deputy Director of Radiation Oncology at the Central Coast Cancer Centre and returned to Western Sydney in 2014 to join the Sydney West Radiation Oncology Network (Westmead and Blacktown Hospitals in NSW) where she currently works as a Senior Staff Specialist. She has been providing private consultation service at Norwest Private hospital with private radiation therapy services at GenesisCare Macquarie University Hospital and Norwest.
Puma is an elected Director on the Board of the Trans-Tasman Radiation Oncology Group (TROG), current Chair of the Board of Directors of Head and Neck Cancer Australia which aims to provide advocacy and support for those affected by Head and neck cancer and is a Council Member of the Clinical Oncology Society of Australia. She has served on the scientific committee of TROG (2014 – 2022), Cancer Symptom Trials Group, Management Advisory Board (2018 – 2022) and the Radiation Oncology Research Committee of the RANZCR from 2016 – 2019. She is actively involved with education, assessment, and research supervision (honours and PhD) of students at University of Sydney where she has clinical academic appointment. As a supervisor of training, she is responsible for teaching, mentorship, and supervision of radiation oncology RANZCR specialist trainees. She is an Associate Editor of the Journal of Medical Imaging and Radiation Oncology and reviewer for multiple international peer reviewed journals. Puma has convened and presented at various national and international conferences, and published in peer-reviewed journals.