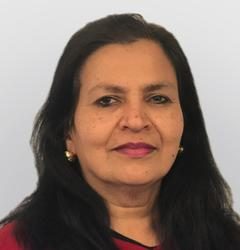 Oncoplastic breast surgeon
Ms Shrotria, is a pioneer and multi-award winning in the field of breast surgery and is renowned both nationally and internationally.  She has published multiple articles on improving techniques in cancer and breast surgery and has been instrumental to training future surgeons. Patient experience and exceptional standards are her biggest drivers. She does not use drains for surgery and introduced the concept of minimal scar and scar-less breast surgery.
Ms Shrotria offers daily One Stop Breast Clinics at GenesisCare Windsor, combining all necessary imaging and consultation to provide patients with a quick diagnosis. Ms Shrotria works closely with GenesisCare breast consultants if onward referrals are required.
Certificate of Merit- Hospital Doctor Awards 1999
Excellence in female healthcare finalist- Hospital doctor awards 2000
Innovation award finalist- Hospital doctor awards 2001
Pioneer in medical care- British medical associations 2001
Avon Breast Cancer Crusade Award- Nomination 2002
Asian Woman Achievement- Finalist 2002
Interests
Breast lump diagnosis, removal and investigation
Nipple discharge and bleeding
Breast pain
Breast cancer diagnosis
Breast Screening
Annual breast check
Managing screen detected cancer ie cancer found on mammogram
Breast surgery- Mastectomy and sentinel lymph node biopsy
Benign and malignant breast lumps
Breast enlargement / augmentation
Breast reduction/ breast lift
Mammoplasty / Mastopexy and reconstruction
Removal of breast lumps
Breast reconstruction
Male breast lumps
Male breast cancer
Male breast reduction
Gynaecomastia
Breast genetic test
BRCA gene 1 & 2
Implant removal
Lipomodelling
IORT
Breast excision
Breast biopsy- needle and core
Lymph nodes surgery
Armpit swelling
Asymmetry
Family history advice
HRT advice
Fibroadenoma and breast cysts
British association of surgical oncologists
Association of breast surgeons
Medical protection society
British Medical Association
Woman in surgery
Thames medical society
Ms Sunita Shrotria reviews