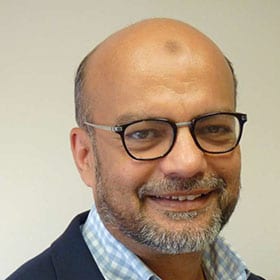 MBBS, FRCS (Gen), DNB, PG Cert (Med Edu)
Languages spoken
Hindi, Urdu, Marathi, English
Expert in
Breast and endocrine surgery
Mr Charfare graduated from Bombay University in 1986 before going on to complete his basic surgical training in India. He came to the UK in 1992 and after obtaining FRCS in 1993, he worked as a higher surgical trainee in South East Thames and East Anglian deaneries.
He passed his Intercollegiate specialty examination, FRCS (Gen Surg) in 2000.
Throughout his time training in the UK, Mr Charfare developed a special interest in Laparoscopic surgery (cholecystectomies and hernia repair), Breast surgery and Endocrine surgery (thyroid and parathyroid diseases). He was appointed Consultant General Surgeon at Bedford Hospital in 2005 and 5 years later in 2010 he was made Clinical Lead in breast surgery; providing care and treatment for symptomatic and screen detected breast cancers.
Mr Charfare currently provides a one stop breast clinic and a full range of diagnostic and therapeutic procedures for breast cancer. He also specialises in minimally invasive parathyroid surgery and sentinel node biopsy.
Outside of his day to day consultancy work Mr Charfare sits on the editorial board for British Journal Medical Practitioners and he has peer reviewed several surgical articles related to his speciality for publication. He is Director of the CCrISP course and is also a recognised teacher for medical students from the University of Cambridge.
Current position(s)
Clinical Lead, Bedford Hospital 
Interests
Breast cancer
Breast diagnostics
Benign breast conditions
Breast surgery
Royal College of Physicians and Surgeons of Glasgow
Association of Breast Surgery
British Association of Endocrine and Thyroid Surgeons
British Hernia Society
European Hernia Society
Royal College of Physicians and Surgeons of Glasgow
Association of Breast Surgery
British Association of Endocrine and Thyroid Surgeons
British Hernia Society
European Hernia Society
1) Charfare H, MacLatchie E, Bradley M, Eadie C, Burnet K, Chapman D et al. Comparison of different methods of assessing cosmetic outcome following breast-conserving surgery and factors influencing cosmetic outcome. British Journal of Medical Practitioner 2010;3(1):310 2) Ypsilantis E, Charfare H, Wassif WS. Intraoperative PTH Assay during Minimally Invasive Parathyroidectomy May Be Helpful in the Detection of Double Adenomas and May Minimise the Risk of Recurrent Surgery. Int J Endocrinol. 2010;2010:178671 3) Charfare H, Limongeli S, Purushotham AD. Neoadjuvant chemotherapy in breast cancer. Published Br J Surgery 2005; 92 (1): 14- 23 4) Charfare H, Cheslyn-Curtis S. Selective cholangiography in 600 patients undergoing Laparoscopic cholecystectomy with 5-year follow up for residual bile duct stones. Ann R Coll Surg Eng 2003; 85: 167-73 5) Groot-Wassink T, Deo H, Charfare H, Foley R. Laparoscopic excision of urachus. Surg Endosc 2000; 14 (7): 680- 1. Epub 2000 May 22
Mr Habib Charfare reviews