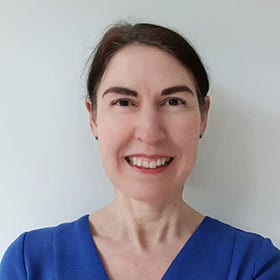 BSc, MB BS, FRCS (SN) Neurosurgeon
Expert in
Brain and Spine Cancer
Special clinical interests in spinal surgery (degenerative spinal conditions, spinal pain, spinal tumours, spinal dyraphism), neuromodulation (chronic pain and spasticity), trigeminal neural
Miss Stana Bojanic is a Consultant Neurosurgeon and Spinal Surgeon at the John Radcliffe Hospital, Oxford. She qualified from London University and undertook her neurosurgical training in Bristol and Oxford. As a registrar, she was awarded the Lang Research Fellowship by the Royal College of Surgeons of England.
Stana is a senior member of the Neurosurgery Spinal Team at the John Radcliffe Hospital and attends the weekly Spinal MDT meetings. She undertakes spinal surgery for degenerative conditions, spinal tumours, spinal dyraphism and combined complex cases with the Spinal Orthopaedic Team. She has helped to introduce the British Spinal Registry to the department.
Stana is also a senior member of the Functional Neurosurgical team. She developed the Neuromodulation Service in Oxford (spinal cord stimulation and intrathecal pumps) into one of the major implant centres in the UK for patients with neuropathic pain, spinal pain and spasticity. This has enabled her to provide an integrated and holistic approach to management of spinal and neuropathic pain. She is currently Past President of the Neuromodulation Society of UK and Ireland.
Stana has a specialist interest in the management of Trigeminal Neuralgia and complex face pain. She is part of the Complex Face Pain Team at the John Radcliffe Hospital. She has run an international webinar of the use of neuromodulation for intractable face pain.
She is one of the founder members of the Oxford Craniofacial Trauma group. Their outcomes have been published in peer reviewed journals.
NHS Hospital
Oxford University Hospitals NHS Foundation Trust
Research interests
High intensity frequency ultrasound (HIFU) in the treatment of spinal tumours, spinal cord stimulation, dorsal root ganglion stimulation, neuromodulation for face pain, craniofacial trauma. Stana is on the Board of Editors for the Journal of Neuromodulation: Technology at the Neural Interface.
Any Outcome Measures
As President of NSUKI, Stana set up and chaired the National Neuromodulation Registry Governance Committee enabling this Registry to 'go live' in March 2018
Five and Ten year outcomes for craniofacial tumour management have been published – the risk of intracranial infection was reduced by 50% with surgical intervention
Trial to implant for spinal cord stimulation is above 84% in the Oxford unit (compared to 64% in a recent publication in the USA) with an infection rate of 2% (national UK average 4.6%)
Patient feedback for the Intra-thecal Drug Delivery service, 99% reported that delivery of care was excellent
Interests
Spinal surgery (degenerative spinal conditionsspinal pain, spinal tumours, spinal dyraphism)
Neuromodulation (chronic pain and spasticity)
Trigeminal neuralgia
Craniofacial trauma
Royal College of Surgeons of England
British Association of Spinal Surgeons
Society of British Neurological Surgeons
Neuromodulation Society of UK and Ireland (Past President)
British Neuro-oncology Society
BRC Grant for the investigation of HIFU in the treatment of sacral and coccygeal tumours
Miss Stana Bojanic reviews