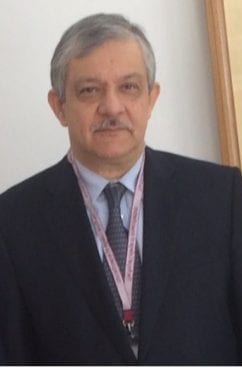 MB, ChB, FRCS, FRCPath Haematologist
Expert in
Haemoto oncology
Special clinical interest in haematology oncology and anticoagulation.
Dr Aldouri has extensive experience in the management of haematological disorders and supervision of the haematology laboratory and blood transfusions. He has been Head of Haematology Services at Medway Maritime Hospital since 1999, and runs regular clinics at King's College Hospital, London. His experience extends to the management of haematological malignancies, the investigation of patients with anaemia or abnormal white cell and platelet disorders, and the management of patients with thrombotic complications.
Dr Aldouri carries out bone marrow examinations for diagnostic and follow-up purposes, and arranges for chemotherapy delivery privately when indicated. He also carries out venesection procedures for the management of polycythaemia or iron overload (hereditary haemochromatosis).
Current position(s)
Consultant Haematologist, Medway NHS Foundation Trust
Fellow of the Royal College of Surgeons (FRCS)
Fellow of the Royal College of Pathologists (FRCPath)
Member of the British Society of Haematology (BSH)
Member of the General Medical Council (GMC)