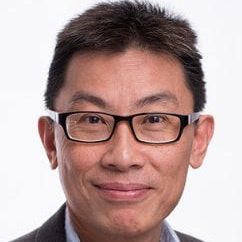 MB BS, FRACR, FRCR, MD Clinical Oncologist
Expert in
Clinical oncology and urology
Special clinical interest in clinical oncology and urology.
Prof Khoo is a Consultant in Clinical Oncology at The Royal Marsden Hospital, Honorary Consultant at St George's Hospital and Honorary Senior Lecturer at The Institute for Cancer Research, University of London. He was previously Head of Department of Clinical Oncology at The Royal Marsden.
He qualified in medicine in 1985 and has trained and worked in clinical oncology in the UK, USA, and Australia.
He is Adjunct Professor, Department of Medical Imaging and Radiation Sciences, Monash University and Honorary Associate Professor, Department of Medicine, University of Melbourne and Austin Health. He leads collaborative research groups with these Australian centres.
Prof Khoo is specialist advisor and reviewer to Cancer Backup, CancerHelp, National Horizon Scanning Centre, the International Union against Cancer (UICC) and several international scientific journals/cancer funds.
He is Clinical Lead, Clinical Oncology Urology Unit at The Royal Marsden's Chelsea Hospital which offers a comprehensive array of therapies: from stereotactic radiotherapy (SABR) to image guided intensity modulated and adaptive radiotherapy, and prostate brachytherapy to systemic therapies such as hormonal, targeted therapies and chemotherapy as well as Phase I to III Clinical Trials with these therapy agents.
University of London
University of Melbourne
Department of Medical Imaging and Radiation Sciences
The Royal Marsden Hospital
St George's Hospital
Intensity modulated and image guided radiotherapy including SABR
Chemotherapy
Hormone therapy
Prostate, bladder, kidney, testis and penile cancer.
Combined modality therapy

Multi-modality imaging
Technical and image-guided radiotherapy
Fellow of the Royal Australasian College of Radiologists
Fellow of the Royal College of Radiologists (FRCR)
Member of the UK National Cancer Research Institute (NCRI) Clinical and Translational Radiotherapy group
The National Cancer Research Network (NCRN) Prostate Clinical Studies Group
The NCRN Penile Cancer Clinical Studies Bladder Subgroup
The NCRN Renal Clinical Studies Group
The European Society for Therapeutic Radiation and Oncology (ESTRO)
The European Cancer Conference (ECCO)
The European Institute of Radiotherapy (EIR)
The International Targeted Prostate Cancer Screening Study (IMPACT)
Previously Head of Department of Clinical Oncology at The Royal Marsden
Clinical Lead, Clinical Oncology Urology Unit at The Royal Marsden's Chelsea Hospital
Adjunct Professor, Department of Medical Imaging and Radiation Sciences, Monash University and Honorary Associate Professor, Department of Medicine, University of Melbourne and Austin Health
Specialist advisor and reviewer to Cancer Backup, CancerHelp, National Horizon Scanning Centre, the International Union against Cancer (UICC) and several international scientific journals/cancer funds
Prof Vincent Khoo reviews