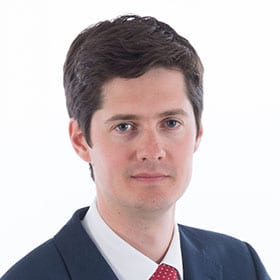 MBChB MRCP FRCR MSc (Oncology) Consultant Clinical Oncologist
Expert in
Upper gastro-intestinal, pancreatic and urological cancers
Interested in
Stereotactic radiotherapy (SABR) for cancer that has spread to a limited number of sites (oligometastatic disease)
Stereotactic radiotherapy for localised prostate cancer
Dr Bird works as a Consultant Clinical Oncologist at the Bristol Cancer Institute, specialising in upper gastro-intestinal, pancreatic and urological cancers. He also has a specialist interest in stereotactic radiotherapy (SABR) for cancer that has spread to a limited number of sites (oligometastatic disease) and stereotactic radiotherapy for localised prostate cancer.
Before taking up his Consultant post in Bristol, Dr Bird completed his medical training in Edinburgh and underwent Specialist Training in Oncology at the Royal Marsden Hospital, Guy's Hospital and the Kent Oncology Centre. He was awarded a Masters degree in Oncology with distinction from the Institute of Cancer Research (University of London) for research evaluating the effectiveness of intensity-modulated radiotherapy (IMRT) and PET-CT imaging to reduce treatment side effects for patients. He completed a 12-month Radiotherapy Fellowship at the Peter MacCallum Cancer Centre (Melbourne, Australia) and published on outcomes with combination chemotherapy and radiotherapy treatments, as well as the use of complex pelvic radiotherapy approaches for recurrent cancer.
Dr Bird is keenly involved with research and actively recruits and manages patients enrolled in clinical trials. He has several first name publications in peer reviewed journals and has presented at both national and international conferences.
Consultant Clinical Oncologist
Edinburgh 

Royal Marsden Hospital
Peter MacCallum Cancer Centre - Melbourne, Australia
Upper gastro-intestinal cancers
Pancreatic cancers
Urological cancers
Prostate Cancer
Bladder Cancer
Kidney Cancer
Oesophagus Cancer
Stomach Cancer
Pancreatic Cancer
Stereotactic radiotherapy
Royal College of Radiologists
British Uro-oncology Group
Member of the Royal College of Physicians (MRCP)
British Medical Association
Medical Protection Society
An overview of the doctors accomplishments go here
Masters degree in Oncology with distinction from the Institute of Cancer Research (University of London)