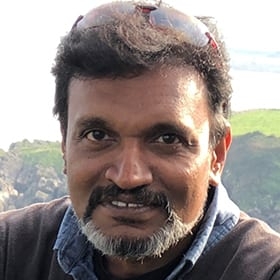 Dr Thankamma V Ajithkumar
MBBS DMRT MD FRCR FRCP MBA
Consultant Clinical Oncologist
Languages spoken
English, Malayalam
Interested in
Optimize the combination of radiotherapy with novel agents in hepato-pancreatico-biliary tumours
Dr TV Ajithkumar is a Consultant Clinical Oncologist at Addenbrooke's Hospital. He qualified in medicine from Trivandrum Medical College, India. He undertook a research fellowship in the Royal Marsden Hospital, London followed by speciality training in Clinical Oncology in the Eastern Deanery before becoming a Consultant Clinical Oncologist Bristol Oncology Centre in 2006. He moved back to East Anglia in 2009 as a Consultant in Clinical Oncology at the Norfolk and Norwich University Hospitals and subsequently to Cambridge in 2014.
His research interest is to optimize the combination of radiotherapy with novel agents in hepato-pancreatico-biliary tumours to improve clinical outcomes. Dr Ajithkumar is the radiotherapy research lead for the Eastern Cancer Research Network.
He is the lead editor of three oncology text books :Specialist training in Oncology (Elsevier), Oxford Desk Reference in Oncology, and Oxford Case histories in Oncology and is the lead author of the upcoming text book, Oxford Specialist Handbook in Oncology-Radiotherapy planning.
Consultant Clinical Oncologist
Trivandrum Medical College
Royal Marsden Hospital - London
Consultant Clinical Oncologist
Radiotherapy
Advanced techniques for haematological radiotherapy
Radiotherapy, including SABR for hepato-biliary and pancreatic cancers
Paediatric radiation Oncology
Chair, SIOPE Brain tumour radiotherapy group
Radiotherapy lead for SIOPE Non-germinomatous germ cell tumours
Principal investigator of Re-irradiation working group; International consortium on Paediatric Normal Tissue Effects in the Clinic (PENTEC)
Member: Quality and Excellence in Radiotherapy and Imaging for Children and Adolescents with Cancer across Europe in Clinical Trials (QUARTET) project
Member: NCRI CCLG CNS group and NCRI pancreatic cancer working group
Radiotherapy lead for NCRI CCLG GCT subgroup and national advisory panel
Member, Clinical and Translational Radiotherapy Research Working Group (NCRI- CtRAd)
Editorial member of Royal College of Radiologist Journal Clinical Oncology
Specialist training in Oncology (Elsevier)
Oxford Desk Reference in Oncology
Oxford Case histories in Oncology
Lead author of the upcoming text book, Oxford Specialist Handbook in Oncology-Radiotherapy planning
Novel techniques in radiotherapy and optimisation of the combination of drugs with stereotactic ablative radiotherapy.
Chief investigator of the PORTICO-SABR study, which evaluate the optimal combination of novel agents with SABR for operable pancreatic cancer