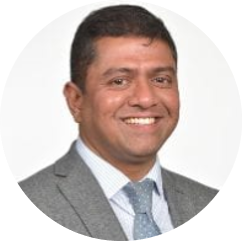 MRCP (UK), FRCR (Clinical Oncology), consultant clinical oncologist
Languages spoken
English, Russian, Tamil, Telugu and Hindi
Expert in
Radiotherapy, chemotherapy, and immunotherapy.
Special clinical interest in head and neck and colorectal (colon and rectum) oncology.
Dr Harinarayanan is a consultant clinical oncologist, specialises in treating patients with head and neck and  colorectal cancers using radiotherapy, chemotherapy and immunotherapy. Dr Harinarayanan is particularly interested in complex intensive modulated radiotherapy techniques in both head and neck and rectal cancers. His other clinical interests include:
re-irradiation (repeated radiotherapy) in rectal cancers
innovative intra-operative radiotherapy techniques (radiotherapy given during surgery) for complex pelvic surgeries,
Relapses of head and neck cancer and also radiotherapy for patients with complex thyroid cancers.
Dr Harinarayanan is a member of the British Association of Head and Neck Oncology. Dr Harinarayanan was involved in the low level laser therapy (LLLT) project for managing patients with head and neck cancer using radiotherapy. This project was the first of its kind in the NHS and implemented UHS as the pioneering cancer centre for LLLT. Since then, the technology has been approved by the Multinational Association of Supportive Care in Cancer (MASCC, Europe) and the National Institute for Health and Care Excellence (NICE). He was ORF (Oncology Registrars Forum) representative for clinical oncology from the Wessex Deanery to the Royal College of Radiology from 2015 to 2016. 
Immunotherapy trials in head and neck cancer
Stereotactic radiotherapy (a technique that treats a tumour with radiotherapy from different directions) for head and neck and rectal cancers, proton beam radiotherapy (a type of radiation therapy that causes less damage to surrounding tissue) for head and neck and rectal cancers.
Principal investigator and co-investigator for PATHOS study, KEYNOTE 412, CHECKMATE 651 clinical trials.
Initial medical training – Saint Petersburg State Medical Academy, Russia
Posts in general medicine in the West Midlands and London deaneries
MRCP – Royal College of Physicians, London, 2010
Training in clinical oncology at Mount Vernon Hospital (London), Dorset Cancer Centre, Queen Alexandra Hospital and University Hospital Southampton
Postgraduate diploma in oncology – Institute of Cancer Research, London
Dr Harinarayanan won a Wessex Shine award for implementing the out-of-hours cancer care management service at UHS.
PATHOS, KEYNOTE 412 (Immunotherapy with chemoradiotherapy), LiTEFORM (low level laser therapy)