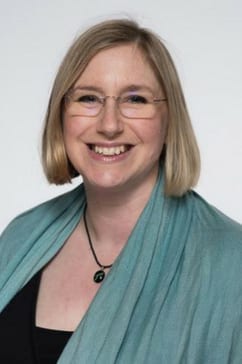 MBBS, MRCP, FRCR, Clinical Oncologist
Special clinical interests in breast cancer, adult brain, skull base and spinal cord tumours.
Dr Davis graduated from University College London Medical School in 1998 before working as a Junior Doctor in a number of hospitals including Mount Vernon and Charing Cross. She completed clinical oncology training at Southampton University Hospitals Trust prior to her appointment as Consultant at the Royal Berkshire Hospital, Reading in 2012.
Dr Davis is now the Radiotherapy Clinical Lead at the Berkshire Cancer Centre, Royal Berkshire Hospital, Reading. Dr Davis is a keen advocate in pushing forward new radiotherapy technologies, especially those that reduce toxicity to normal tissue and achieve better outcomes for patients. Dr Davis was involved in the implementation of the breath hold breast radiotherapy (DIBH) technique in Reading and intensity modulated radiotherapy (IMRT) for brain and head & neck patients. Dr Davis is also a College Tutor, supervising training for clinical oncology trainees in Berkshire and involved with the regional training programme and national recruitment. Treatments
Radiotherapy
Chemotherapy
Hormone therapy
Immunotherapy
Specialties
NHS Hospital / current post(s)
Consultant Oncologist and Radiotherapy Clinical Lead Royal Berkshire Hospital, Reading
Year qualified 1998 Research interests Dr Davis is a keen participant in clinical research and a Principal Investigator (PI) for a number of trials across Berkshire including: the Fast Forward Breast Radiotherapy trial, which compares standard radiotherapy with a shorter more intense course of treatment; Bridging the Age Gap which looks at treatment options for older breast cancer patients; and Horizons which documents the experiences of our younger breast cancer patients. Professional memberships
Fellow of the Royal College of Radiologists (FRCR)
Member of the Royal College of Physicians (MRCP)