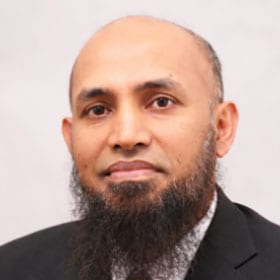 MBBS, MRCP, FRCR, Clinical oncologist
Languages spoken
English, Bengali, Urdu, Hindi
Expert in
Non-surgical treatments for Gastro-intestinal and lung cancers. 
Interested in
Gastro-intestinal and Lung cancer including Thymoma and Neuroendocrine.
Dr Islam, Consultant Clinical Oncologist specialises in all the non-surgical treatments for Gastro-intestinal and Lung cancers.
He treats lung and GI cancers using chemotherapy, biological therapy, Immunotherapy, data from genome analysis and state of the art radiotherapy techniques including Image Guided Radiotherapy (IGRT), MRL(ViewRay) and Proton Therapy. He is able to offer the combination of the above modalities and liaise with surgeons to offer a unique package for each patient. He specialises in Stereotactic Body Radiotherapy (SBRT) for oligo-metastases and oligo-progressive disease in all types of cancer. He has been involved in Lung and GI cancer trials as Principal and Co-investigator and published in many peer reviewed journals including The Green Journals. He has presented his work in national and international meetings.
He completed his Specialist Oncology training in many centres of excellence including Royal Marsden Hospital and Guy's Hospital and obtained his Diploma in Oncology from Institute of Cancer Research (ICR), London.  He was awarded the Brian Wither Travel Grant and Patricia McGregor Travel Fellowship to present his work in Florida, USA regarding precision Radiotherapy (SABR/SBRT). 
Alongside his work as a clinical oncologist, Dr Islam is a core member of the expert group which authored the Radiotherapy for Lung Cancer for East of England and chair of the protocol writing committee for Rectal and Anal Cancer. He is also the guest Author for Breast Cancer Care.
NHS Hospital 
Mid and South Essex University Hospital NHS Trust
Current position(s)
Lung SABR co-lead at Southend Hospital
The principal investigator for lung and colorectal cancer trials
All non-surgical treatments for Gastro-intestinal and Lung cancers
Gastro-intestinal and Lung cancer including Thymoma and Neuroendocrine
Brian Wither Travel Grant and Patricia McGregor Travel Fellowship to present work in Florida, USA regarding precision radiotherapy (stereotactic ablative radiotherapy (SABR) and stereotactic body radiotherapy (SBRT)
Dean J, Islam MR, Nutting C et al. Normal Tissue Complication Probability (NTCP) Modelling of Severe Acute Mucositis using a Novel Oral Mucosal Surface Organ at Risk. Clinical Oncology.  29 (2017) 263-273
Sacco K, Muhammad A, Saleem W, Alshaker H, Monzon L, Islam MR, Pchejetski D. Leptomeningeal carcinomatosis as primary presentation of relapse in breast cancer (review). 2016 Aug;12(2):779-782.Oncology Letters. Epub 2016 Jun 16. DOI:10.3892/ol.2016.4745
Dean J, Islam MR, Nutting C et al. Assessment of fully- automated atlas-based segmentation of novel oral mucosal surface organ-at-risk. Radiotherapy and Oncology.2016 Apr; 119(1): 166–171.Epub 2016 Feb 19. DOI: 10.1016/j.radonc.2016.02.022
Kunene V, Miscoria M, Pirrie S, Islam MR, Afshar M, Porfiri E. Sarcomatoid Renal Cell Carcinoma: Clinical Outcome and Survival After Treatment with Sunitinib. Clinical Genitourinary Cancer. 2014 Aug;12(4): 251–5. Epub 2013 Dec 27.DOI: 10.1016/j.clgc.2013.12.001.
Nimalasena S, Lopez-Campos F, Islam M, Bedford M, Hawkins M, Ahmed M. Report of outcomes with Volumetric Arc Modulated Radiotherapy (VMAT) for thoracic tumours. Poster number: EP1034.2nd ESTRO Forum, Geneva 2013 – Switzerland
Islam R, Lander F, Newbold K. Review of compliance with guidelines for risk stratification in low-risk thyroid cancer at the Royal Marsden Hospital. Published as Abstract. Clinical ONCOLOGY. 2017 June;29(Supplement 1): S8
Reinius M, Islam M, Dancey G et al. audit of stage III non-small cell lung cancer (NSCLC) management in the Essex Cancer Network. Lung Cancer. 2019 January; 127: S8 DOI:10.1016/S0169-5002(19)30061-3
Islam M, Aun M, Kim S et al. EP315 Adenocarcinoma versus squamous cell carcinoma of cervix: are we fighting two different beasts with same weapon? International Journal of Gynecologic Cancer 2019;29: A226-A227.
Tharmakulasingam S, Cooper S, Islam M et al. The challenges of managing immunotherapy induced type 1 diabetes mellitus presenting as diabetic ketoacidosis: a case report. Lung Cancer. 2020 January; 139(1): S52 DOI:10.1016/S0169-5002(20)30146-X
Mithra S, Islam MR, Malek A et al. Immune-related toxicities in advanced non-small cell lung cancer: a two-centre experience. Lung Cancer. 2020 January; 139(1): S55 DOI:10.1016/S0169-5002(20)30154-9
Durga T, Cyriac A, Islam M et al. Essex experience of stereotactic radiotherapy in lung cancer. Lung Cancer. 2020 January; 139(1): S34 DOI:10.1016/S0169-5002(20)30109-4
Rubasingham J, Dancey G, Islam M et al. Survival outcomes after whole brain radiotherapy in non-small cell lung cancer patients with brain metastases: a single centre experience. Lung Cancer. 2020 January; 139(1): S43

Baker H, Sen R, Dancey G, Islam R, Sen R. Using the CARG prediction score to influence patient decision to proceed with chemotherapy based on the prediction of toxicity in lung cancer.

Lung cancer. 2021 June; 156(supplement 1): S45 DOI: 10.1016/S0169-5002(21)00306-8
Islam R, Baker H, Kim S. Use of single-agent pembrolizumab as first-line treatment for non-small cell lung cancer with PDL1 Status <50% as per NHS England interim guidance during the COVID-19 pandemic at Southend University Hospital. Lung Cancer. 2021 June; 156: S18 DOI: 10.1016/S0169-5002(21)00241-5
Yang H, Islam MR, Yip K, et al. Harmonisation of radiotherapy practice in lung cancer: East of England Reginal Radiotherapy Network Initiative. Lung Cancer. 2022 March; 165(Supplement 1): S7

Moynihan L, Tun K, Islam R. EGFR mutations in patients at Mid and South Essex NHS Foundation Trust and eligibility for adjuvant EGFR-targeted therapy. Lung Cancer. 2022 March; 165(supplement 1): S39 DOI: 10.1016/s0169-5002(22)00129-5