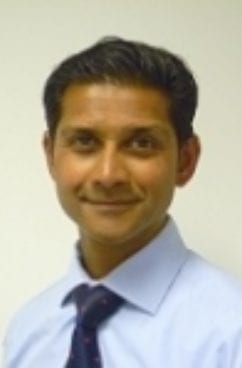 FRCP, FRCR, MD, Clinical oncologist
Expert in
Breast and skin cancer
Special clinical interest in breast cancer and skin cancer.
Dr Shah is a consultant clinical oncologist at the Mount Vernon Cancer Centre and the East and North Herts NHS Trust Hospitals. Dr Shah's interests are in the management of breast cancer, upper gastrointestinal (GI) tract tumours, radiotherapy for metastatic tumours and tumours requiring stereotactic radiotherapy. He is able to advise on the treatment of unknown primary cancers and has an interest in both radiotherapy and chemotherapy.

Dr Shah is active in clinical trial participation, is an investigator for a number of local studies and an advisor to pharmaceutical companies on relevant cancer strategies. He is an advisor to the Health Care Commission and the cancer strategy for head & neck tumours. Dr Shah has advised Cancer BACUP, dedicated websites for cancer information and ethnic minority groups for cancer care information. 
Clinical oncologist, Elstree
Clinical oncologist, Milton Keynes
Breast cancer
Radiation therapy
Stereotactic radiotherapy
Cyberknife
Fellow of the Royal College of Physicians (FRCP)
Fellow of the Royal College of Radiologists (FRCR)
Member of the Health Technology Assessment Panel