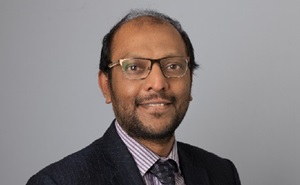 Dr Muthiah Sivaramalingam
MBBS, MRCP, FRCR Clinical Oncologist
Expert in
Breast, gastrointestinal,  genitourinary, head and neck, lung and prostate cancer
Dr Muthiah Sivaramalingam has been a Consultant Clinical Oncologist in the United Kingdom for over 13 years. He has been involved in the treatment of patients with different types of cancers with an ever-evolving array of therapeutic modalities in a rapidly changing and exciting field of clinical oncology over the last decade. Dr Sivaramalingam has been involved in the forefront of developments such as IMRT, IGRT and SABR. Unique to the practice in the United Kingdom, as a Clinical Oncologist, he is also experienced in the use of various forms of systemic therapies for treatment of solid tumours including biological agents, targeted agents and more recently immunotherapy in various combinations in this specialty. Dr Muthiah Sivaramalingam is evolved as a leader in a multidisciplinary (MDT) environment. He chaired the weekly Head and Neck cancer Multidisciplinary team (MDT). Dr Sivaramalingam was the lead for Head and Neck Oncology and Tumour site-specific lead for Neuroendocrine Tumour (NET) and Gastrointestinal Tumour (GIST). He was the clinical lead for implementation of IMRT (in 2010) and SABR (2017) in Preston.
I am involved in the implementation of SABR at UHNM currently. I strongly believe in clinical research being the way forward for our future progress in oncology and the self-assessment process of regular auditing aspects of our practice as the cornerstone in providing the best possible care for our patients. 
Interests
IMRT
Immunotherapy
Modern Radiotherapeutic techniques and innovations
Specialism in treatment of Lung cancers, Gastrointestinal cancers, Head and Neck Cancers, NET and GIST
Expertise in Chemotherapy, Biologic therapy
IGRT and other forms of conformal Radiotherapy
Royal College of Radiologists
ASTRO
BTOG Poster Prize (Chemotherapy for NSCLC: One of top 10 prizes from over a hundred selected Posters) (Dublin, Ireland) 2009
Clinical Excellence Awards [Level 2 (Local)] 2011
Post mastectomy radiotherapy: the British Columbia trial. Advances in Breast Cancer; Vol 2, Issue 2, June 2005, P27-29: Peter A Canney and Muthu Siva.
Small cell neuroendocrine carcinoma of uterine cervix - The Scottish experience. Journal of Clinical Oncology 2006; Vol 24, No 18S Part 1, 652s: Siva M, Mahmood R, Kakumanu S, Sadozye A, Reed N.
Adjuvant treatment for adenocarcinoma of stomach and oesophago-gastric junction - A Glasgow experience. Annals of Oncology; Vol 17, Supplement 6, vi98, June 2006: Sivaramalingam M, MacLaren V, and Yosef H.
Adjuvant Treatment of Gastric and Oesophago-gastric Junction Adenocarcinoma – a Glasgow Experience. Clinical Oncology; Vol 19 (2007) Supplement 1, S46: M. Sivaramalingam, A. Shaukat, V. MacLaren, and H. Yosef.
Capecitabine in advanced breast cancer: Predictive factors for response. J Clin Oncol 26; 2008 (May 20 Suppl): M Siva et al.