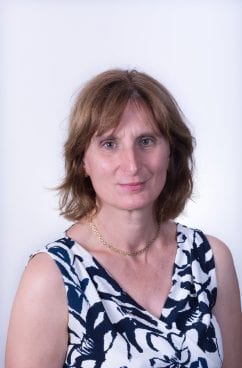 MB BChir, MRCP, FRCR, Clinical Oncologist
Expert in
Colorectal (bowel) cancer, breast oncology and lymphoma radiotherapy.
Dr Margaret Moody studied Medicine in Cambridge and did most of her early postgraduate training there. She then commenced her training in Clinical Oncology at the Royal Marsden Hospital in London where she was awarded the Royal College of Radiologist's gold medal for Part I of the Fellowship. She completed her oncology training in Cambridge and was appointed Consultant Clinical Oncologist to Addenbrooke's and the West Suffolk Hospital in 1996.
Since 2010 she has been clinical director for specialist medicine at the West Suffolk Hospital and chair of the hospital's thrombosis committee.
In 2013 she collected the Lifeblood Award for thrombosis prevention on behalf of the hospital. She is currently chief examiner for communication skills for second year medical students at the University of Cambridge.
Dr Moody developed an interest in the quality of breast radiotherapy techniques while at the Marsden and was heavily involved in setting up and running the Cambridge Intensity Modulated Radiotherapy Trial. She was also involved in running the Cambridge Outreach trial which evaluated the delivery of cancer treatment in the community. She has been the local principal investigator for numerous NCRN trials in breast cancer, colorectal cancer and lymphoma at both Addenbrooke's and the West Suffolk Hospital.
Clinical director for specialist medicine at the West Suffolk and chair of the hospital's thrombosis committee
Chief Examiner for communication skills for second year medical students at the University of Cambridge
Cambridge University
Clinical Oncology, Royal Marsden Hospital
Fellow of the Royal College of Radiologists (FRCR)
Member of the Royal College of Physicians (MRCP)
Royal College of Radiologist's Gold Medal for Part I of the Fellowship
Lifeblood Award for thrombosis prevention on behalf of the West Suffolk Hospital