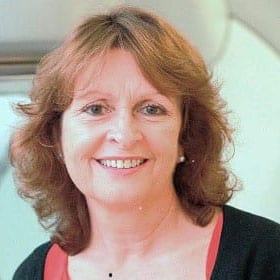 MD, FRCR, FRCP, Clinical oncologist
Expert in
Breast cancer, Gastrointestinal cancer
Dr Tait has been a Consultant Clinical Oncologist at The Royal Marsden since 1988 and has a specialist interest in upper gastrointestinal (GI), colorectal, hepatobiliary, anal and breast cancers. She has a particular interest in GI chemoradiotherapy and the use of modern radiotherapy techniques.
Dr Tait was Vice-President and Dean for the Faculty of Clinical Oncology at Royal College of Radiologists from 2012-2014. She was involved in National committees looking at the delivery and redesign of radiotherapy services.  She Chaired numerous National committees to continue and implement modern radiotherapy techniques and chemotherapy to improve quality of care for oncology patients. She has worked with Macmillan Cancer Support in a number of different capacities and remains on their Expert Advisory Board.
Dr Tait's main research interests focus around using new radiotherapy technologies to improve treatment delivery, reduce side effects and improve patient outcome. She is Principal Investigator on two clinical trials, one a rectal cancer study which involves intensive follow-up for patients who may be able to avoid rectal surgery by adopting a 'watch and wait' policy (Deferral of Surgery trial). The other is a further rectal study investigating the best time to perform surgery following pre-operative chemoradiation (6 v 12 trial).
Dr Tait is a Trustee for Bowel Cancer UK and a member of their Medical Advisory Committee.   She is Senior Associate Editor (GI Team) for the premier international journal, The International Journal of Radiation Oncology, Biology and Physics (Red Journal) from 2018- present.
Current position(s)
Consultant Clinical Oncologist at The Royal Marsden since 1988
Expertise
Breast cancer
Gastrointestinal cancer
Interests
Upper gastrointestinal (GI), colorectal, hepatobiliary, anal and breast cancers
GI chemoradiotherapy
New radiotherapy technologies to improve treatment delivery, reduce side effects and improve patient outcome
Vice-President and Dean for the Faculty of Clinical Oncology at Royal College of Radiologists from 2012-2014
Over 230 publications
Affiliations: FRCR, BCUK, Macmillan and Associate Snr Editor of International Journal of Radiation, Oncology, Biology