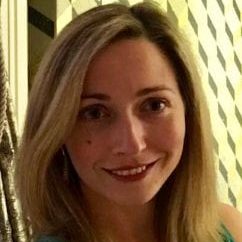 MBBS, FRCR (equiv.), Clinical Oncologist
Languages spoken
English, Italian
Expert in
Genitourinary cancer, Prostate cancer
Dr Carla Perna qualified in 2009 in Italy, she trained as Radiation Oncologist and spent 2 years doing research in pelvic radiotherapy at the University College of London Hospital. She has been appointed as Consultant Clinical Oncologist at the Royal Surrey County Hospital in Guildford, and Frimley Park Hospital in Camberley. She specialises in urological cancers with a particular interest in prostate and testicular cancers.
With her team, she performs 400 prostate brachytherapy cases a year using both Low-dose-rate and High-dose-rate technique.
Carla is heavily involved in research, having been the Principal Investigator for most of the urological trials, including those using the newest radiotherapy techniques with hypo fractionation and SpaceOAR, systemic treatment including immunotherapy for prostate cancer and Theranostic (Lutetium PSMA for metastatic prostate cancer).
Current position(s)
Royal Surrey County Hospital
Frimley Park Hospital
Interests
Prostate cancer
Brachytherapy
Testicular cancer
Royal College of Radiologists
MDU
Perna C., Williamson C., Khaksar S. A bowel pathway for patient undergoing radiotherapy for prostate cancer. ESTRO38.2019
Laing R, Uribe J, Uribe-Lewis S, Money-Kyrle J, Perna C, Chintzoglou S, Khaksar S, Langley SEM. Low-dose-rate brachytherapy for the treatment of localised prostate cancer in men with a high risk of disease relapse. BJU Int. 2018 Oct;122(4):610-617
S.E.M. Langley, J. Uribe, S. Uribe-Lewis, J. Money-Kyrle, C. Perna, S. Khaksar, R. Soares, R. Laing. Comparative analysis of clinical outcomes and procedural costs between conventional two-stage technique and 4D Brachytherapy for early prostate cancer. Clinical Oncology (2017) 1-8
Langley SEM, Soares R, Uribe J, Uribe-Lewis S, Money-Kyrle J, Perna C, Khaksar S, Laing R. Long-term oncological outcomes and toxicity in 597 men aged ≤60 years at time of low-dose-rate brachytherapy for localised prostate cancer. BJU Int. July 3, 2017
Ricardo Soares, MD, FEBU, Carla Perna, MD, Santiago Uribe-Lewis, PhD, Jennifer Uribe, MD, Stephen Langley, MBBS, MS, FRCS (Urol). Brachytherapy for prostate cancer, Surgical procedure for core urology trainees, edited by Sanchia Goonewardene and Prof Raj Persad. Springer October 30, 2017
Eminowicz G, Motlib J, Khan S, Perna C, McCormack M. Pelvic Organ Motion during Radiotherapy for Cervical Cancer: Understanding Patterns and Recommended Patient Preparation. Clinical Oncology (2016) Sep;28(9): e85-91
Eminowicz G, Motlib J, Khan S, Perna C, McCormack M. Pelvic organ motion during radiotherapy for cervical cancer and impact on target coverage. Presented at ESTRO35, Turin. (April-May 2016)
Perna C, Eminowicz G, Asghar U, Imseeh G, Kirkwood A, Mitra A, Arora R, Kristeleit RS, McCormack M. Uterine carcinosarcoma: a retrospective clinical cohort analysis. Annals of Oncology 2016;27(6):296-312. Presented at ESMO 2016 Congress, Copenhagen