Introducing the Patient Portal
Our new portal offers you a way to connect to us and to your treatment plan when you need it most.
Login here
As part our commitment to providing quality care to patients, we're introducing our Patient Portal. It's still early days so to start, we are inviting oncology patients receiving radiation therapy treatment to trial this new platform.
What you can do in the portal right now
Complete your registrations forms online
Review information and tips for your treatment
View your scheduled appointments in real time
View your personal details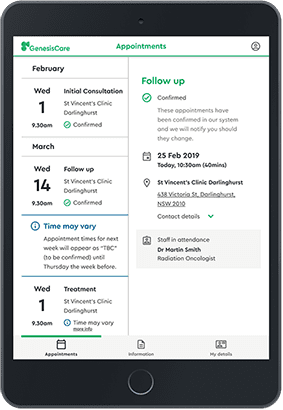 Speak with your clinical team
You will need a valid email and mobile number
You will be sent a welcome email and login details


Things to know about the portal
Available on smart phone, tablet and computer
Your personal data is secure with us
Access the Patient Portal
Once you've been invited by our clinical team you can access the portal below
Login here
Your feedback will help guide us
You'll be invited to provide feedback on your experience, which will help us improve the portal for you and all our future patients.
Please speak to our friendly care team or email us at if you would like to be involved with our Patient Portal.