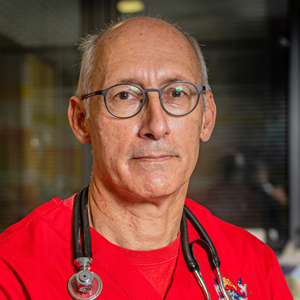 BMedSc, MBChB w Dist, PhD, FRACP, FRCPA, Haematologist
Languages spoken
English, German
Clinical interest in coagulation and bleeding disorders, haematological malignancies, multiple myeloma
Professor Ward is a clinical haematologist based at Royal North Shore hospital, with an academic appointment in the Faculty of Medicine, University of Sydney. His clinical interests are in coagulation, particularly venous thromboembolism and platelet disorders, myeloproliferative disorders and myeloma. He runs the thrombosis and anticoagulation clinics at RNS and supervises outpatient management of venous thrombosis. Prof Ward is the lead investigator at RNS for clinical trials of new anticoagulants and therapies for thrombocytopenia.
As Director of Research for the Department of Haematology and Transfusion Medicine, he supervises several research groups investigating platelet function disorders, hypercoagulable states plus cancer-related thrombosis, and myeloproliferative disorders. Professor Ward coordinates undergraduate teaching in the Department and supervises a number of postgraduate students in research and clinical trial posts. He is active in regional and international professional societies, including leadership positions in the International Society of Thrombosis and Haemostasis and American Society of Hematology.
Special interests in thrombophilia, platelet disorders and vascular biology, myeloma.
ISTH Council Member
Co-Chair, ASH Working Party on Thrombosis and Hemostasis
Executive Council Member, APSTH
M-C Morel-Kopp, L McLean, Q Chen, GH Tofler, C Tennant, V Maddison, CM Ward. The association of depression with platelet activation: evidence for a treatment effect. J Thromb Haemost 2009:7: 573-81
M-C Morel-Kopp, CW Tan, TA Brighton, S McRae, R Baker, H Tran, P Mollee, G Kershaw, J Joseph, C Ward. Validation of whole blood impedance aggregometry as a new diagnostic tool for HIT: results of a large Australian study. Thromb Haemost 2012 107:575-83, Epub 2012 Jan 11
WS Stevenson, MC Morel-Kopp, Q Chen, HP Liang, CJ Bromhead, S Wright, R Turakulov, AP Ng, AW Roberts, M Bahlo, CM Ward. GFI1b mutation causes a bleeding disorder with abnormal platelet function.  J Thromb Haemost 2013 11(11) 2039-47. Doi: 10.1111/jth.12368
D Rabbolini, M-C Morel-Kopp, Q Chen, S Gabrielli, L Dunlop, L Chew, N Blair, T Brighton, N Singh, A Ng, C Ward, W Stevenson. Thrombocytopenia and CD34 expression is decoupled from alpha-granule deficiency with mutation of the first GFI1b zinc finger. J Thromb Haemost 2017: 15(11) 2245-2258 doi:10.1111/jth.13843
G Tofler, M-C Morel-Kopp, M Spinaze, J Dent, C Ward, S McKinley, A Mihailidou, J Hyatt, V Whitfield, R Bartrop, J Fethney, H Prigerson, T Buckley. The effect of metoprolol and aspirin on cardiovascular risk in bereavement: a randomized controlled trial. Am Heart J 2020 220: 264-72